This post contains affiliate links. It means you're supporting us at no additional cost.
Learn more
An air track mat is a gymnastics equipment that allows your child to practice gymnastics skills at home with ease. But with so many different kinds and brands on the market, it can be tough to choose the right one for your family. That's why we've done the research for you and compiled a list of the best air track mats for home gymnastics practice! Keep reading to find the perfect fit for your family.
The 7 Best Air Track Mats for Gymnastics:
For a quick reference, these are the five best air track mats for gymnasts:
1. Home AirTrack Pro – Best overall, proven quality
2. Tumbl Trak Air Floor – Runner-Up, proven brand
3. FBSPORT Inflatable Training Mat – Best Value
4. AKSPORT Inflatable Floor Mat – Amazon's Favorite
5. EZ GLAM Inflatable Tumbling Track Mat – Most Stylish
6. DAIRTRACK IBATMS Air Mat – Budget Option
Honorable Mention: 7. Milazul Tumbling Track Air Mat
Choosing the Right Inflatable Mat
Practice makes perfect, right? If you have a budding gymnast in your life, then you know how important practicing between lessons can be. Of course, it may make you cringe to watch them flipping around the back yard or cement basement.
What can you do if you don't have space at home for them to tumble safely?
Grassy backyards and carpeted basement floors can't protect them from all the impacts and possible injuries, especially when they're still learning. Adding some cushion could give young gymnasts the encouragement and safety net necessary to pursue their passions.
Thankfully, there are many options available for a safe home gymnastics practice and tumbling spaces, an inflatable mat could be the game changer you need. Read on to learn more about how these mats could help the gymnast in your life, including reviews of the best air track mats available.
Why Get Inflatable Air Track Mats?
Tumbling requires space, and not every home has room to build a dedicated area for young gymnasts. That doesn't mean your kiddo has to skip home practices or that you need to fork over money for gym space.
Inflatable air track mats aim to solve space and safety concerns so that young gymnasts and tumblers can keep practicing.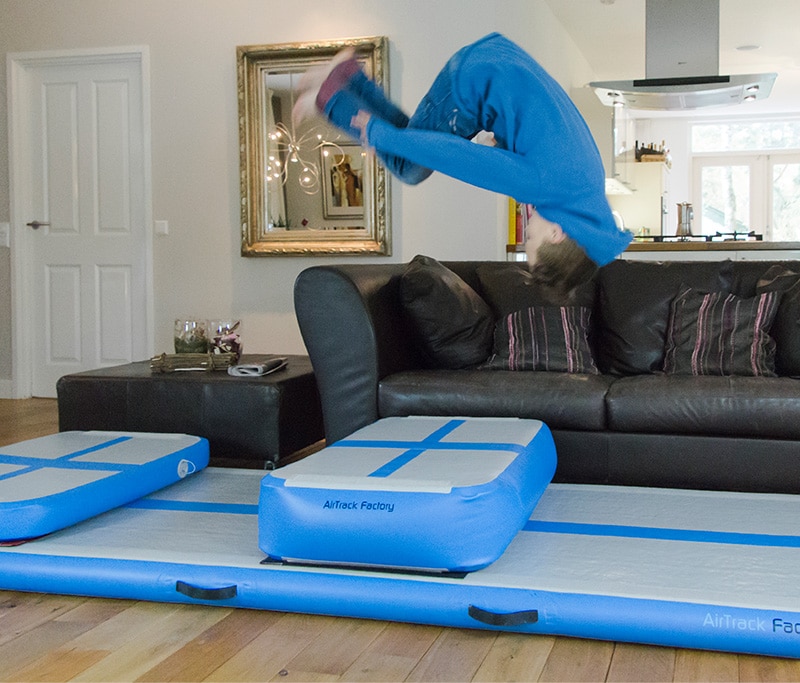 What Exactly is an Air Track Mat?
Air tracks are inflatable mats that look like long, narrow rectangles. The narrowest mats are about three feet wide but can be up to twenty feet long.
These mats provide a springy surface that's more versatile than other tumbling mats or trampolines. You can use them for more than tumbling, and they are deflatable for compact storage when not in use.
Air Track Mats for Tumbling
Tumblers need some resistance, but they also need cushion and spring to perform some maneuvers. Air track mats cover all the bases and provide adequate floor padding to reduce the chances of injury.
What To Consider Before Buying an Air Track Mat?
Inflatable air track mats represent an investment, so it's a good idea to do your research before purchasing one. Deciding what you need in terms of size, thickness, and the price could help you narrow the field and find the best product to meet your needs.
Size
Air track mats are long, thin inflatable rectangles, but that doesn't mean they all have the same dimensions. It's a good idea to measure the spaces you intend to use the mat most often and choose a product that works with the smallest dimensions.
Though most products are around 3 feet wide, you can find some that have wider options available (e.g. 5 feet wide). Additionally, you can find various lengths from 6 feet up to 20 feet. Ten feet long air track mats are probably the most common size available. Some of these mats connect to create longer tracks.
Thickness
Most inflatable mats are four (4) inches thick, meeting the minimum suggested thickness. However, you can find products that are 6 or 8 inches thick for increased protection.
Some companies offer 12 thick inflatable mats, but you can expect to pay far more for them. However, it may not be the best option for smaller children who could fall off the air track at that thickness.
Features
Many inflatable air track mats look similar if you line them all up, but digging deeper, you can find slight differences that may elevate one product over another. High-quality materials, special valves, air pumps, and even handles could help you choose one mat over another.
High-quality materials include double-walled fabrics and commercial grade PVC tarpaulin, but you may find lesser grade materials that hold up well enough.
Valves matter when you have to inflate and deflate quickly.
Air pumps may or may not be part of your purchase, so it helps to read the product description closely. Additionally, manual pumps may not be as helpful as electric ones.
Handles and carrying bags included with your mat can make transporting them easier if that's something that matters to you.
Velcro along the edges can help secure the mat or allow you to connect more than one. Not all mats include velcro, but it's something to consider.
Price and Warranty
Like most products, you get what you pay for with inflatable tumbling mats. That doesn't mean that you have to pay top dollar to get a reasonable product, but it helps to set a budget and stick to it.
Don't forget to consider any warranties or customer service supports included with the purchase. For example, you have two mats at similar price points, but one offers a two-year warranty and the other doesn't. The mat with the warranty will probably have better build qualities and last longer.
Most high quality inflatable mats out there offer a two-year warranty.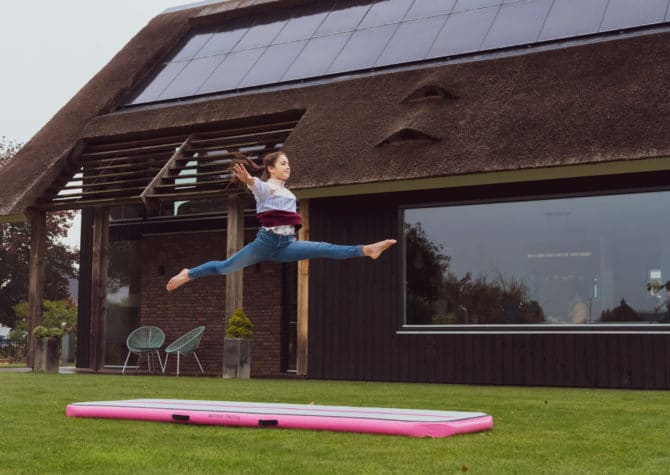 Frequently Asked Questions (FAQs) about Air Track Mats
We understand that these purchases reflect an investment and that you may still have some questions. These are some of the most common questions we found during our research and the best answers.
Air Track Vs. Tumbling Mat: What's The Difference?
Traditional tumble tracks provide cushion but they function more like trampolines, and use the same general technology. Air tracks use air to create a cushion and provide both spring and resistance.
Using traditional tumble tracks requires no power for setup and costs less. Conversely, inflatable air tracks require manual or electric power to inflate them, but they are easy to store since they deflate and fold into compact sizes.
Check out our more comprehensive article that talks about the difference between air track mats and tumbling mats.
Are Air Track Mats Safe For Home Use?
Air track mats are one of the best options for home use because of their portability (they can be deflated for storage and transport). Given the speedy setup, you can get the mat out for practice then pack it up and put it away to reclaim the room for other uses.
What Pressure Should I Use For An Air Track?
The proper pressure depends on the user's weight and the type of sport. It's important to consult the user manual for your air track to determine the proper pressure. You can adjust the "bounciness" according to your needs. Most products provide charts based on activity and weight, but a general rule is to add enough air so that you don't bottom out.
How Much Do Air Track Mats Weigh?
It depends on the brand, size, and materials used. While inflatable air track mats tend to be lightweight enough to transport when deflated, that doesn't mean they weigh the same.
Based on our research, you can find a significant weight difference ranging from around 20 pounds up to 45 pounds.
How Long Does An Air Track Last
Again, it depends. Heavily used mats may not last as long as those that see occasional use. Additionally, how you care for the mat can impact its lifespan. Proper storage and maintenance can make a huge difference.
Where To Buy An Air Track Mat?
In our opinion, Amazon is the best place to find air track mats. Aside from the impressive product selection, you can compare items and read multiple customer reviews for each product.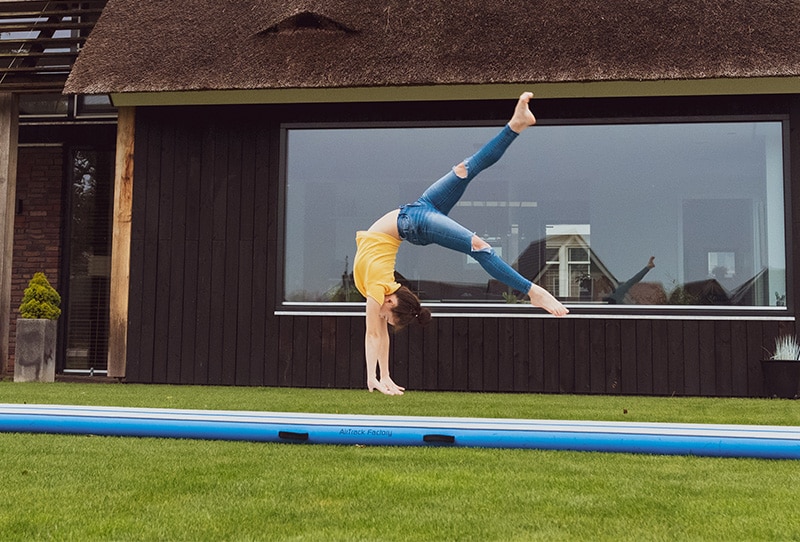 Best Air Track Mats for At-Home Practice
Now that you know what to look for, let's take a look at our top five products.
1. Home AirTrack Pro Mats – Best Overall
AirTrack is one of the first companies that exclusively offers inflatable tumbling mats — they're like the "OG" air track mats maker, so it's no surprise they take the top spot on this list. The company offers a wide range of sizes and thicknesses to meet your needs. The most popular home air mats from them are the Home AirTrack Pro lines. Then there is also the more affordable option, Home AirTrack.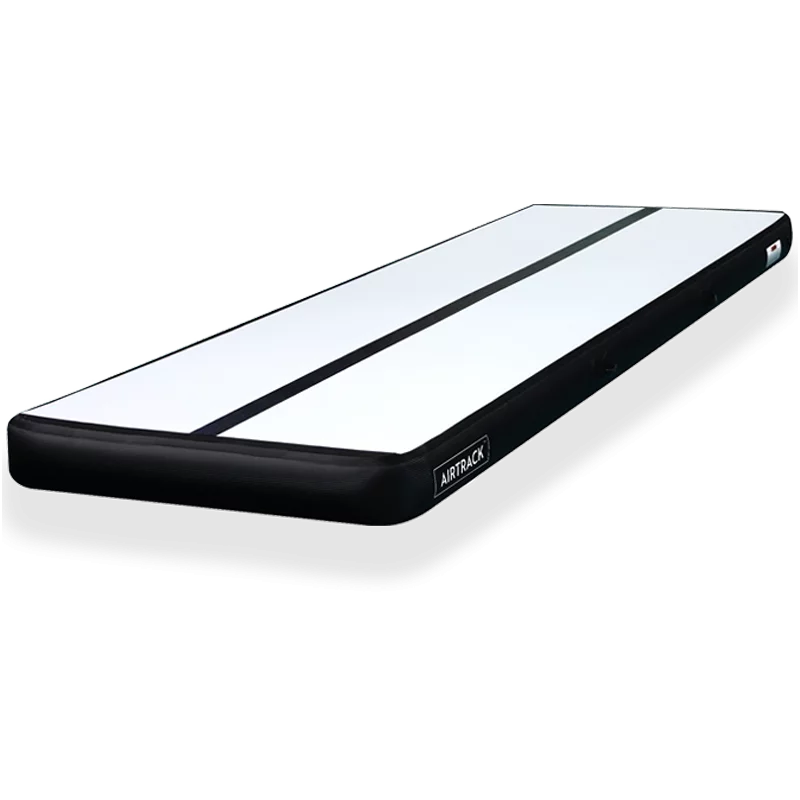 Since AirTrack developed the original inflatable air track mat, it's no surprise that the company improved the design to make it lightweight and durable. Despite using heavy-duty materials, the mats are light enough to pack up and carry almost anywhere.
It's easy to associate durable and heavy-duty with a complicated setup, but AirTrack Factory dispels that myth as well. Simply unroll the mat, inflate it with the included pump, and tumble away. To move it, deflate the mat, roll it up, and store it in a bag.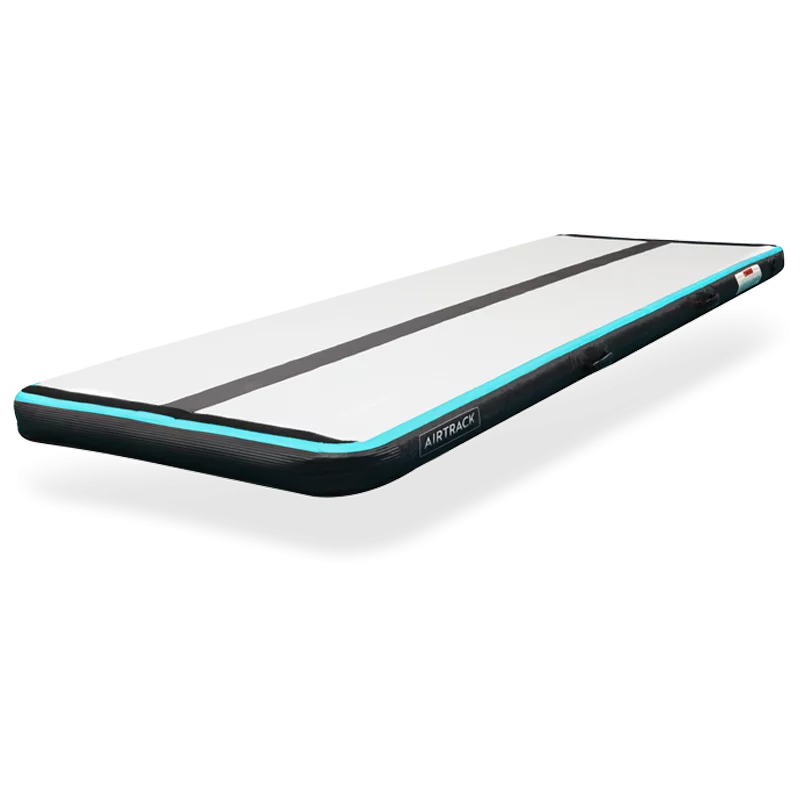 Pros:
Available in two colors and multiple sizes
Includes a foot pump for inflation
Easy to inflate and deflate for portability
Free shipping
Heavy-duty materials
Cons:
Pricier than other options
Limited options available on Amazon, so you may have to purchase direct
Technical Specifications:
Price: starting at around $200 and above
Size: 10 feet, 16 feet for the Home AirTrack, up to 26 feet for the largest mats
Weight: 45 pounds (Home AirTrack)
Thickness: 4-inch, 8-inch, 12-inch options
Material: heavy-duty, double-wall fabric and commercial-grade PVC
Accessories included: foot pump, user manual
Tumbl Trak is a well know gymnastics equipment brand, their training proructs are some of the best on the market, and their air floor is no exception.
Here's what we like about Tumbl Trak Air Mats:
Tumbl Trak Air Floor is made of eco-friendly vinyl with a reinforced woven base fabric, offering maximum protection from tearing, wearing and peeling.
The Air Floor is available in three lengths (3m/4.5m/6m or 10'/15'/20′) and can be easily connected together with Velcro flaps.
Designed for both gym and home use, the Air Floor is 5 feet wide, 3 inches thick and comes with a 2 year warranty.
Cons:
Not intended for use alone on hard surfaces, the Air Floor offers a bouncier rebound than a rod floor and is recommended to be used on top of spring floors, tumbling strips, carpet foams or panel mats.
FBSPORT's inflatable air track mats offer more color selections and multiple size options to meet nearly any home gymnast's needs. Coming in at a lower price point, it's a viable option for those who can't swing the AirTrack Factory products.
Aside from color and size selections, you can choose between 4-inch and 8-inch thick mats to meet your needs. The company also notes that you can adjust the firmness depending on whether you want a firmer or bouncier surface.
Pros:
Eleven colors and 27 sizes to choose from
High-quality materials with v-drop stitching for durability
Set-up and teardown within minutes
Lightweight and versatile
Adjustable pressure to take your mat from bouncy to rock hard
Cons:
Disappointing customer service
May have some quality control issues
Technical Specifications:
Price: starting at $130
Size: 3.3 feet X 6.6 feet up to 3.3 feet X 40 feet
Weight: starting at 42 pounds
Thickness: 4-inch or 8-inch
Material: 500D Filament Grade and high-quality PVC tarpaulin
Accessories included: electric air pump
FBSPORT's mats have thousands of positive reviews and plenty of options to create a customized look. It's a versatile choice for people seeking a portable yet durable mat.
AKSPORT created a package deal that attempts to balance selection, quality, and price. Not only do you get a durable mat in your choice of size and color, AKSPORT includes a suitable carry-bag, repair kit, and electric air pump.
Like other inflatable floor mats, AKSPORT's are easy to set up, tear down, and transport, but you can also attach more than one mat to extend your tumbling space. It's lightweight enough to move around but heavy enough for safe tumbling and dancing.
Pros:
Five color options, 22 size options
Waterproof and versatile
Can attach multiple mats together to extend space
Includes carry-bag
Cons:
May not last as long as other options
Possible quality control issues with the electric pump
Technical Specifications:
Price: starting at $127
Size: 3.3 feet X 9.8 feet up to 6.6 feet X 40 feet
Weight: starting at 25 pounds
Thickness: 4-inch or 8-inch
Material: 100D Filament grade double-wall fabric and PVC tarpaulin
Accessories included: electric air pump, repair kit, carry bag
It may not be as durable as some of the other options, but it's affordable and includes helpful accessories. This mat may be an excellent option for beginners who aren't sure how invested they are in tumbling yet.
With a name like EZ GLAM it's easy to imagine something stylish, and these mats don't disappoint. Choose from colors like glitter and rainbow, and a range of sizes to fit your gymnast's style preferences.
Though style matters, it's not the only consideration, and EZ GLAM didn't sacrifice safety or durability with these mats. The company chose high-quality materials to withstand the impact from tumbling and dancing across the inflated mats.
Pros:
Awesome color options, including rainbow and glitter
Adjustable resistance
Features side handles for transport while inflated
Set-up or tear down in one minute or less
Cons:
Limited customer feedback
Included carry-bag only fits the mat
Technical Specifications:
Price: starting at $120
Size: 3.3 feet X 10 feet up to 6.6 feet X 27 feet
Weight: starting at 25 pounds
Thickness: 4-inch or 8-inch
Material: double-wall material, commercial grade PVC tarpaulin
Accessories included: air pump, carry bag, patches
While there's not much customer feedback for additional insight, it's not necessarily a bad thing since we didn't find negative reports. EZ GLAM's products may be the best bet if you want to show off more personality than you can with a typical blue or pink inflatable mat.
DAIRTRACK IBATMS rounds out the list with a basic inflatable mat for a reasonable price. You don't get a lot of options for color or size, but the price is tough to beat, especially compared to other products
This inflatable air mat uses double-wall material and commercial grade PVC tarpaulin for durability and safety. Additionally, the mat features reinforced side seams and high-quality velcro to connect more than one for an extended tumble space.
Pros:
Three color options and five sizes available
High-quality materials, including canvas handles
Quick and quiet inflation
Excellent price point
Cons:
Limited color and size options
Possible quality control issues with discolorations reported on some mats
Technical Specifications:
Price: $128 up to $310
Size: 3 feet X 9.84 feet up to 3 feet X 20 feet
Weight: starting at 22 pounds
Thickness: 4-inch
Material: double-wall material, commercial grade PVC tarpaulin
Accessories included: repair kit, carry-bag, electric air pump
There's nothing flashy about this inflatable air track mat, but it gets the job done. It's also affordable and durable enough to handle tumbling practice.
Admittedly, deciding between the DAIRTRACK IBATMS and the Milazul mats proved too challenging. Milazul's track air mat is slightly cheaper, but may not be as durable as the DAIRTRACK IBATMS, not that either product seems to have significant issues.
Milazul's mat uses slightly lower-grade materials, but still delivers a safe product that can cushion your gymnast's home practice space. You also get the same accessories and an extra color option.
Pros:
Four color options and five sizes available
Easy set-up and tear down
Reinforced valve and side stitching
Two-year warranty and service included
Cons:
Slight downgrade in materials
Carry-bag may not offer sufficient protection or space for accessories
Technical Specifications:
Price: $100 up to $320
Size: 3.3 feet X 10 feet up to 3.3 feet X 19.68 feet
Weight: starting at 19 pounds
Thickness: 4-inch
Material: 1500D filament grade fabric, 1.5mm PVC tarpaulin
Accessories included: 500W electric pump, repair kit, carrying case, valve tool
The Milazul mat is the most affordable option on the list, but it may not be quite as high quality as the DAIRTRACK IBATMS mat. However, it seems to be durable enough to handle more than a minimal amount of tumbling, especially for beginning gymnasts.
Final Thoughts / Conclusion
Investing in a quality product encourages your gymnast to practice and provides a safe way for them to do so at home. Given the almost impeccable customer reviews, vast selection, and high-quality products, it's tough to beat AirTrack Mats, if you can afford it.
If you want to a more affordable inflatable mat, but still with a pretty good quality, you can go with our runner-up: FBSport inflatable mats.
That's all we have, but we'd love to hear your thoughts. Feel free to comment and share with other gymnasts in your life!