This post contains affiliate links. It means you're supporting us at no additional cost.
Learn more
Are you looking for a way to help your gymnast improve her skills?
Home gymnastics equipment is the perfect way to help your gymnast practice and improve her skills. Not only does it allow for extra practice at home (Remember, repetition is key), but it's also a great way for her to show you what she has learned in gym.
We've listed some of the best equipment for your home gymnastics setup below, so be sure to check it out! All of the pieces we have chosen are high quality, safe, and sturdy.
We would recommend supervision of course because it is possible for your gymnast to get hurt at home just like it is possible to get hurt at gym.
Things to consider when getting any gymnastics home equipment
When it comes to gymnastics home equipment, there are a few things you'll want to keep in mind.
First, versatility, you'll want to make sure that the equipment can be used to practice a variety of skills.
Second, you'll want to make sure that the equipment can grow with your gymnast as she improves. This way, she won't outgrow the equipment too quickly and will be able to continue using it for years to come.
Third, you'll want to make sure that the weight restrictions on the equipment are appropriate for your gymnast. This will help your gymnast avoid getting injured.
Finally, you'll want to make sure that the gymnastics equipment can be stored easily in your house. So you won't have to worry about it taking up too much space or being difficult to store.
By keeping these things in mind, you'll be able to pick out the perfect gymnastics home equipment for your gymnast.
At-Home Gymnastics Equipment: What They Are
1. Mats
Gymnastics is a sport that requires a lot of practice and dedication. For gymnasts who want to perfect their techniques, having a gymnastics mat at home is essential. gymnastics mats provide a safe and comfortable surface to practice on, and they can help to prevent injuries.
Mats are versatile and essential for any gymnast who wants to practice at home. Not only that they are are perfect for practicing beginner tumbling skills like handstands, cartwheels, and rolls. Gymnastics mats can also be used for other activities such as yoga and pilates
Panel Mats
When it comes to gymnastics mat for home use. Our first option is the Tumbl Trak Tumbling Mats a.k.a the Panel Mats.
It's called panel mats because they fold into 2ft wide panels.


Besides using the panel mats for safety, your gymnast can use it to practice floor routines and his/her tumbling skills. There are so many different purposes for these mats so having one in the house would be beneficial for sure.
Air Track Mats
The second type of gymnastics mat we recommend for home use is the Air Track Mat. These mats are inflatable and made of a durable, yet soft material. They are ideal for practicing tumbling and floor skills.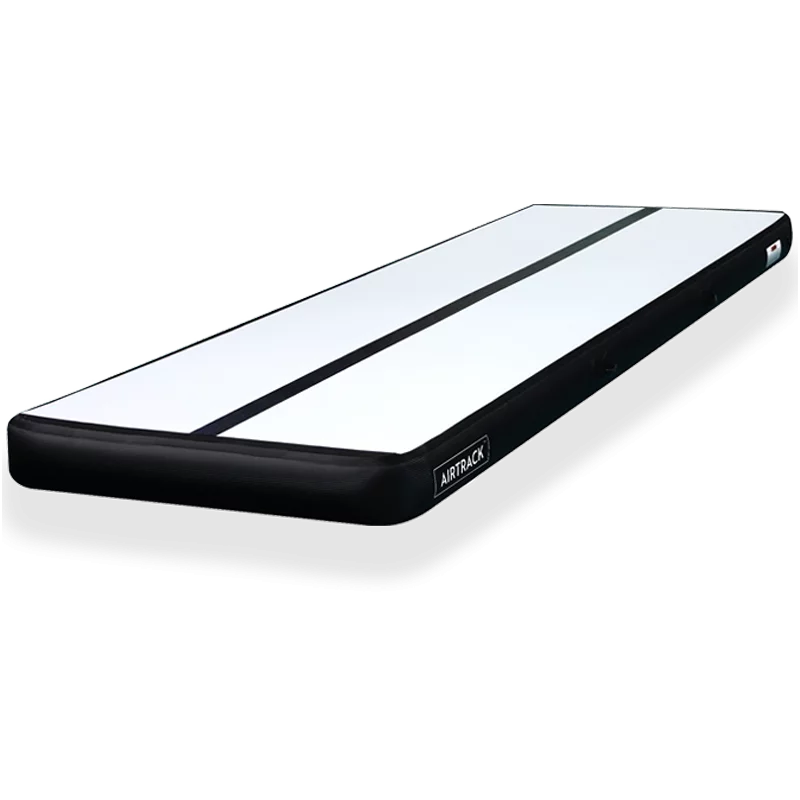 When it comes to high quality inflatable air mats, you have two options. The regular Home AirTrack mats or the Home AirTrack Pro mats. The regular Home AirTrack mat is 4″ thick, good enough for most tumbling skills practice. The Pro one is thicker, for more bounce and repetitions. They are both comes in different length for up to 20 feet.
Practice Mats
The third type of gymnastics mat we recommend is the practice mat. These mats are usually thinner and softer than other types of mats. For different purposes, they come in a variety of sizes (length, thickness, and width).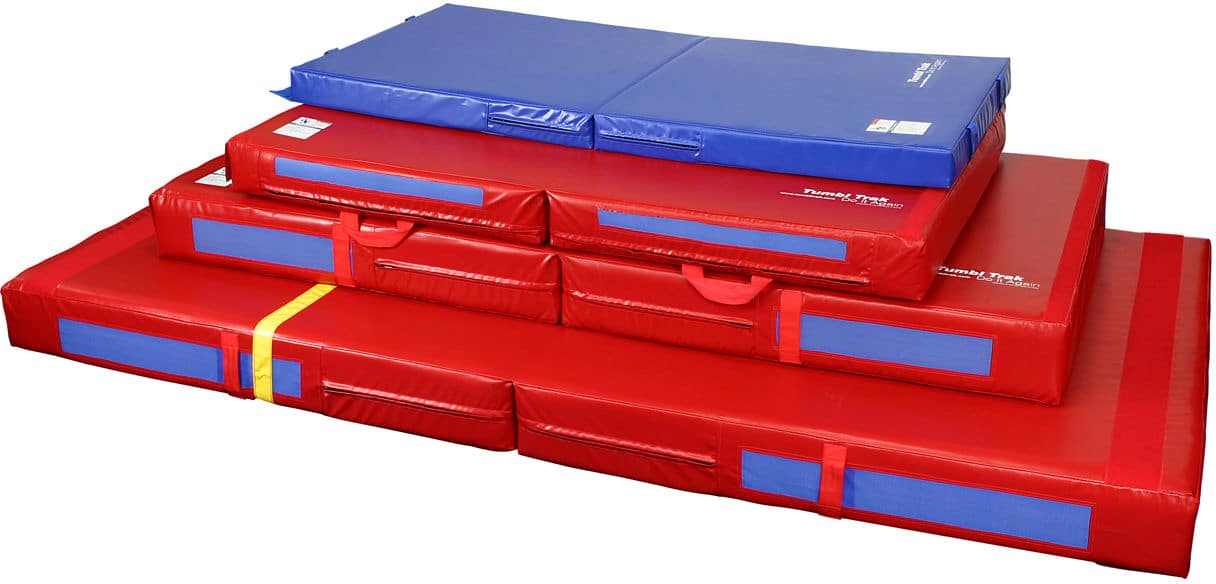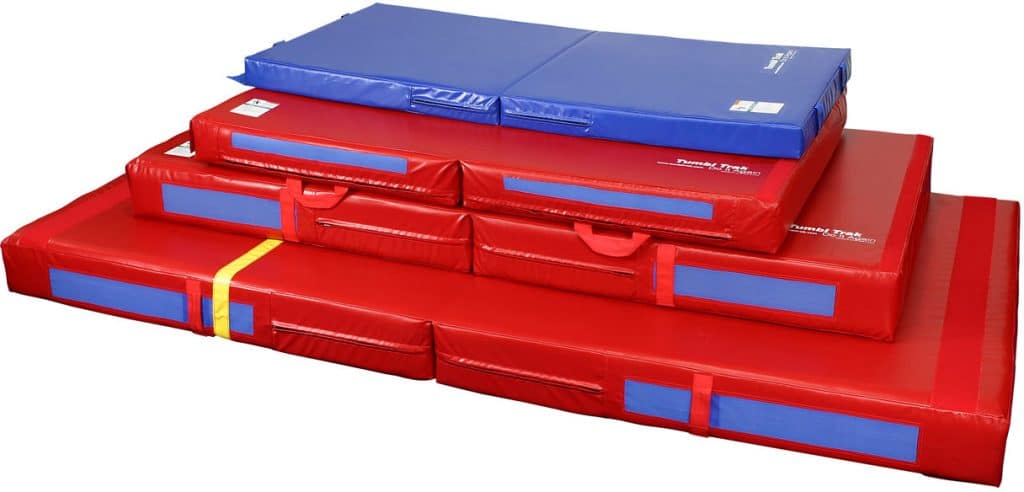 Handstand Homework Mat
Finally, the Tumbl Trak Handstand Homework Mat is another one that you might want to consider purchasing.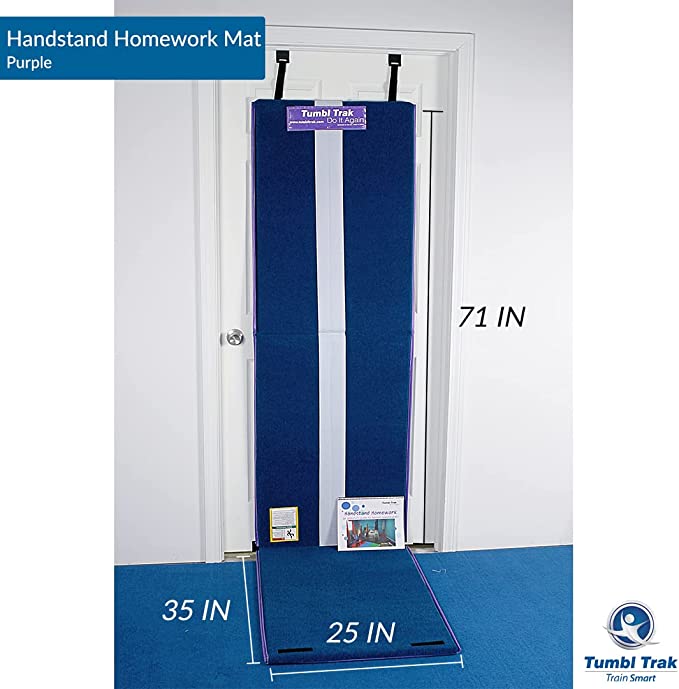 This mat is designed for practicing handstands against a door. And also can be used on the ground. It's small, lightweight, and can be easily stored away when not in use.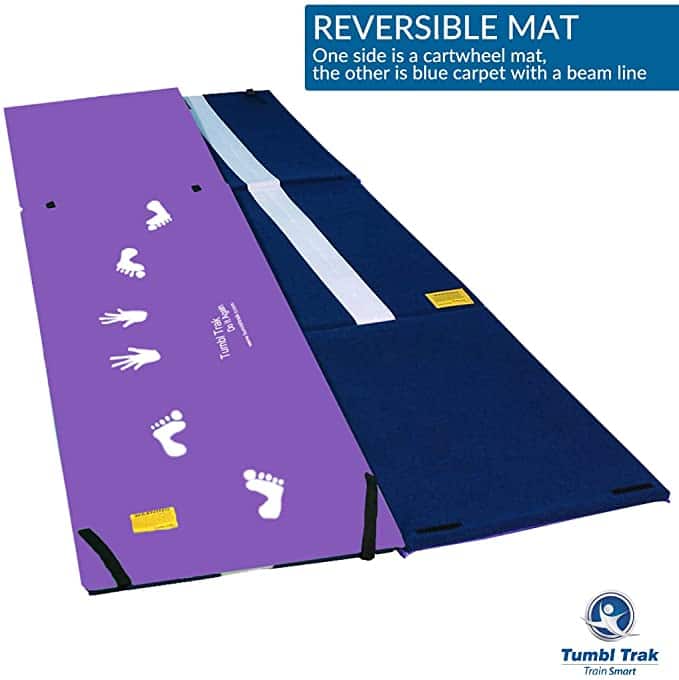 Handstand control is required at all levels of gymnastics, from beginner to expert. This mat will allow your athlete to improve their handstands at home significantly.
2. Balance Beams
Balance beam is kinda a must-have home piece equipment for any gymnast.
It can help beginner gymnasts learn and improve their balance, and it's great for intermediate gymnasts to practice their skills. If your gymnast is more advanced, she can use it to practice her routines.
The Brianna Beam from Tumbl Trak is a great overall home equipment beam.

We have a detailed guide on which beam is you should get for home practice. We really recommend you to read it if you are thinking of getting a balance beam for your gymnasts.
3. Bars
Bars can be difficult to get used to and takes a decent amount of time to become adjusted to them. Gymnasts who have been practicing FOR YEARS even struggle sometimes on bars.
The higher the level, the more advanced the skills become on each event. If your gymnast is having a hard time with bars then I would suggest purchasing a bars set or even a pull up bar.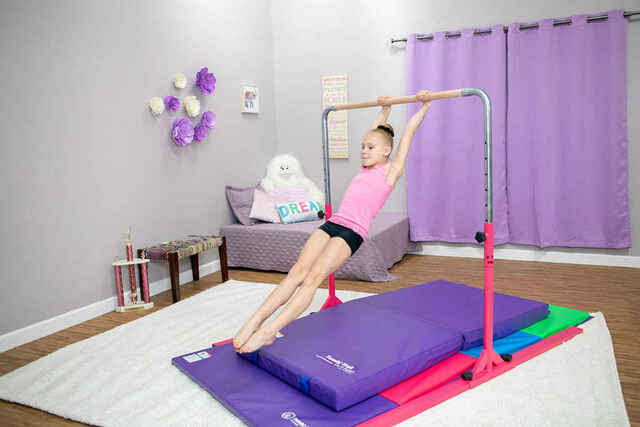 For a bar set, we recommend the Junior Bar Pro. This bar set is specifically marketed for home training and is a very sturdy bar. Gymnasts from all levels will enjoy this set!
We do also have a dedicated content about which bars is best to get for at-home training. Check it out!
4. Other equipment
They are made of high-density foam, so they are soft enough to land on, but firm enough to provide a stable surface. They come in a variety of sizes and colors, so you can choose the ones that best fit your needs. You can use them to practice cartwheels, round-offs, and other basic tumbling skills. Best of all, they are portable and easy to set up, so you can take them with you wherever you go.
Exercise bands provide resistance that helps to build muscle strength, and they can be used to improve flexibility and range of motion.
Yes, these are those sliders that are designed to help people move heavy furniture, but gymnasts can also use them to increase flexibility and strength. By attaching the sliders to their feet, gymnasts can slide across the floor, doing drills that will improve their range of motion.
Tammy Biggs, a world-renowned gymnastics coach, is a big fan of EZ Move sliders and recommends them to all of her students.
For gymnasts looking to stay sharp while at home, the fitness ball is a great option. Here are four ways to use it:
First, the fitness ball can be used for strength training. Gymnasts can sit on the ball and perform squats or lunges. They can also use the ball for crunches or triceps dips.
Second, the fitness ball can be used for balance training. Gymnasts can stand on the ball and perform single-leg raises or toe taps. They can also use the ball for balance beam drills.
Third, the fitness ball can be used for flexibility training. Gymnasts can sit on the ball and do leg stretches or lunges with a twist. They can also use the ball for shoulder stretches or backbends.
Lastly, the fitness ball can be used for coordination training. Gymnasts can try to keep the ball from rolling away as they perform different movements. They can also use the ball to practice tumbling passes or dance moves.
As you can see, there are many ways to use the fitness ball to stay in shape at home. So if you're a gymnast looking for a way to practice while stuck indoors, grab a fitness ball and get started!