This post contains affiliate links. It means you're supporting us at no additional cost.
Learn more
Having a gymnast in your house means that even if they've just finished a three-hour practice, they will still be flipping throughout the house. So why not get the equipment (e.g. gymnastics bar) to help them with their gymnastics practice at home?
Benefits of Having a Gymnastics Bar at Home
A gymnastics bar is the perfect addition to your home to improve your gymnast's skills. It offers the flexibility to practice anytime, is easy to set up, and doesn't take up a lot of space.
With a home gymnastics bar, your gymnast can achieve results comparable to practicing in a gym, accelerating their progress and helping them reach their goals sooner.
Whether it's perfecting techniques, building strength, or boosting confidence, a bar serves as a valuable tool to support your gymnast's journey.
If your gymnast is asking for a bar for their birthday or Christmas, you're probably wondering which one is the best for home use.
In this guide, we'll share our top picks and expert advice to make your decision easier.
To help you find the perfect gymnastics bar for home practice, we've narrowed down our top three recommendations, each are designed for different skill levels.
Top 3 Gymnastics Bars for Home Practice
Tumbl Trak Home Kip Bar (Jr. Kip Bar) – Best for beginners
Tumbl Trak Junior Bar Pro or Jr. Bar Pro Bundle 3 – Best for advanced gymnasts
Tumbl Trak is renowned for offering some of the best training bars for home practice. Their bars boast high-quality construction (2-year warranty) and are considered among the most stable bars available for home use.
Their bars are known for their high safety standards, which is evident in their design features such as rounded corners and cross supports.
These elements not only provide a safe environment for your aspiring gymnast but also minimize shaking during practice. Investing in a Tumbl Trak gymnastics bar is a wise choice for any aspiring gymnastics.
Curious to learn more about why we highly recommend these bars and where to purchase them? Keep reading, and we'll dive into all the details you need to make an informed decision.
Things to Consider Before Buying a Home Gymnastics Bar
Choosing the right gymnastics bar for at home practice can be challenging, but knowing what to look for can make all the difference. In this guide, we'll break down the key factors to consider when selecting a bar based on skill level: beginner, advanced, and team level gymnasts.
Bars for Beginner Gymnasts
When shopping for a bar suitable for beginner gymnasts, keep the following points in mind:
Stability: Ensure the bar is stable and sturdy enough to support your child's weight while they practice their skills.
Adjustability: Look for a bar with adjustable height options to accommodate your child's growth and changing skill level.
Safety Features: Prioritize bars with rounded corners, cross supports, and other design elements that minimize the risk of injury.
Ease of Assembly: Opt for a bar that is easy to set up and dismantle, allowing for convenient storage when not in use.
If you have a beginner level gymnast, we recommend the Tumbl Trak Gymnastics Home Kip Bar.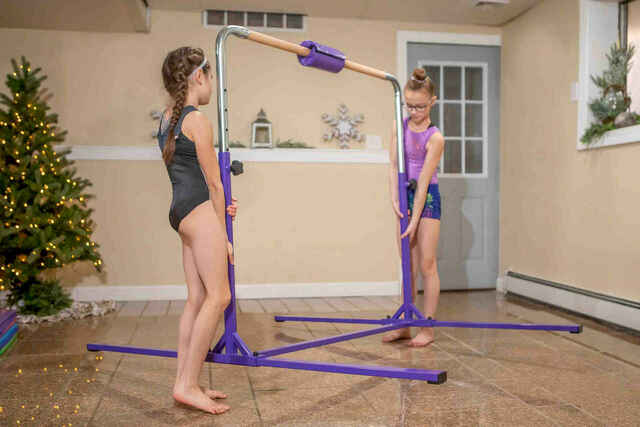 This bar, used to be called the Junior Kip Bar, is designed to help your child train for their kips – the most important skill they'll learn on bars.
Extra training at home will only push them further in the sport. Additionally, they can practice other skills like back hip circles and casts on the Kip Bar.
We highly recommend purchasing the Home Kip Bar directly from Tumbl Trak's official website, TumblTrak.com. By doing so, you can ensure that you're buying an authentic product with guaranteed quality and customer support. They also offer financing.
Bars for Advanced Gymnasts
As your child progresses in their gymnastics journey, you may need to upgrade their equipment. Here's what to look for in a bar designed for advanced gymnasts:
Higher Weight Capacity: Choose a bar with a higher weight limit to support the increased strength and skill level of an advanced gymnast.
Greater Stability: Advanced gymnasts require a more stable bar to safely practice complex moves and routines.
Versatility: Seek out bars that can accommodate additional attachments, such as a mat or spotting block, to facilitate advanced training.
Durability: Invest in a high-quality, durable bar that will withstand the rigors of intensive practice sessions.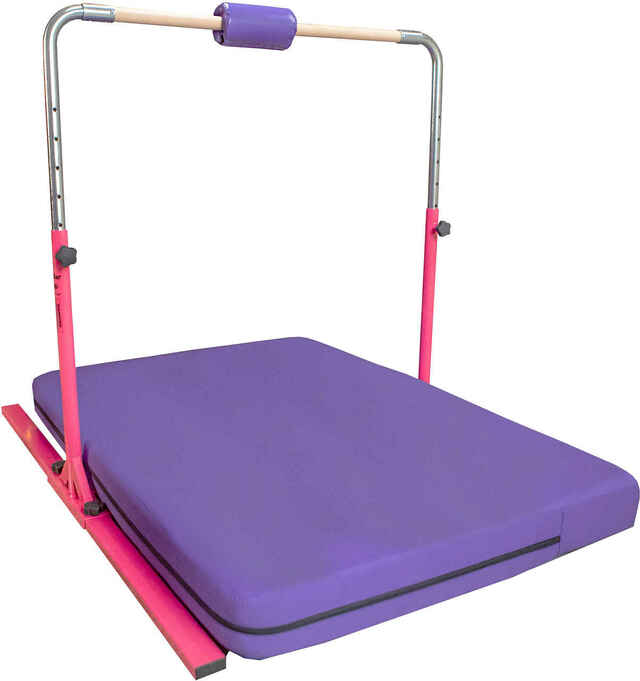 For more advanced gymnasts, Tumbl Trak offers the Junior Bar Pro. This bar is suitable for multiple skills, allowing your gymnast to work on their kips, casting, circling skills, squat-ons, and conditioning exercises like pull-ups and leg lifts.
Bars for Team Level Gymnasts
If your child is part of a competitive gymnastics team, they'll need a bar that meets the demands of their rigorous training. Consider these factors when selecting a bar for team level gymnasts:
Competition Standards: Ensure the bar adheres to competition specifications, such as dimensions and materials, to provide an authentic training experience.
High Weight Capacity: Opt for a bar with a significant weight limit to support the strength and skill of a team level gymnast.
Advanced Safety Features: Look for bars with enhanced safety measures, like shock-absorbing padding and secure fastenings, to minimize the risk of injury during intense practice sessions.
Longevity: Invest in a top-quality bar that is built to last, ensuring your child can continue honing their skills for years to come.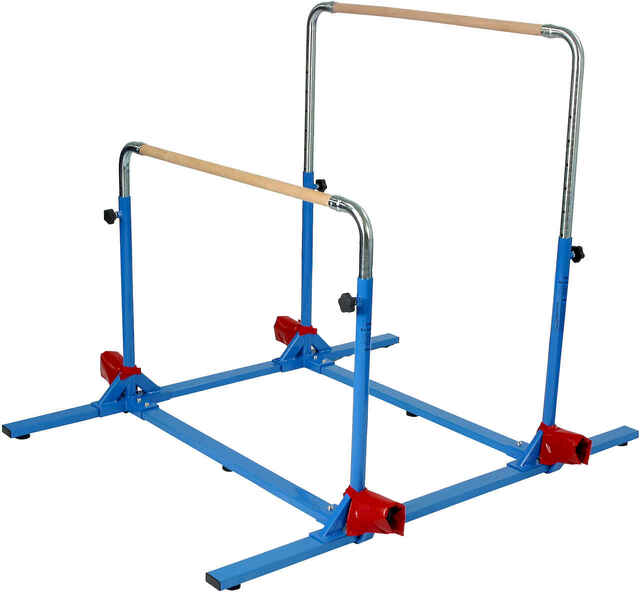 If your child is part of a competitive gymnastics team and learning how to jump to the high bar, the Tumbl Trak 5-in-1 Bar System would be the ideal choice. With this set, you can adjust the bars' distance and height, enabling your gymnast to practice transitioning from the low to high bar.
Jumping to the high bar can be nerve-wracking for a young gymnast. With the 5-in-1 Bar System, they can practice jumping on a lower bar setting, gradually building confidence and go to practice ready to tackle the real thing.
Gymnastics Bars Training Bundles: Getting the Whole Package
Tumbl Trak offers various options when it comes to purchasing gymnastics equipment, including standalone bars or bar bundles (bar and mat packages).
These bundles include mats designed to go under the bar, providing added safety for your gymnast during practice. It's often more cost-effective to opt for a bundle rather than buying the mats separately.
The Importance of Safety Mats
Having the mats is a necessity. It would be safer for your gymnast to have a mat because if they fell you would not want them to get hurt. Having the mats under the bar will give you and your gymnast's coaches some peace of mind.
Getting the bundles will most likely be the better fit for your gymnast. Having mats will take up more space but it is better safe than sorry because you don't want to deal with any injuries. Your gymnast's coaches will appreciate the safety of mats.
Choosing the Right Bundles
Tumbl Trak offers different at-home training bar bundles tailored to various skill levels, from beginners to advanced and team-level gymnasts.
For example, the Gymnastics Home Kip Bar Bundle includes a kip bar, a bar pad, and a 4ft x 6ft Home Practice Mat – perfect for beginners.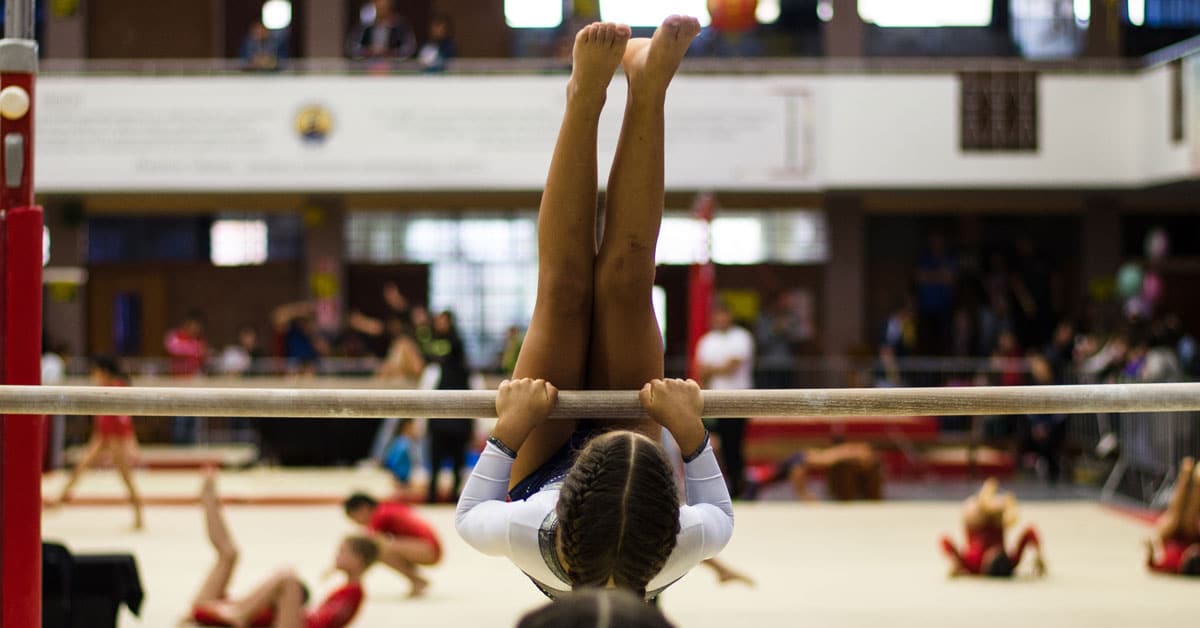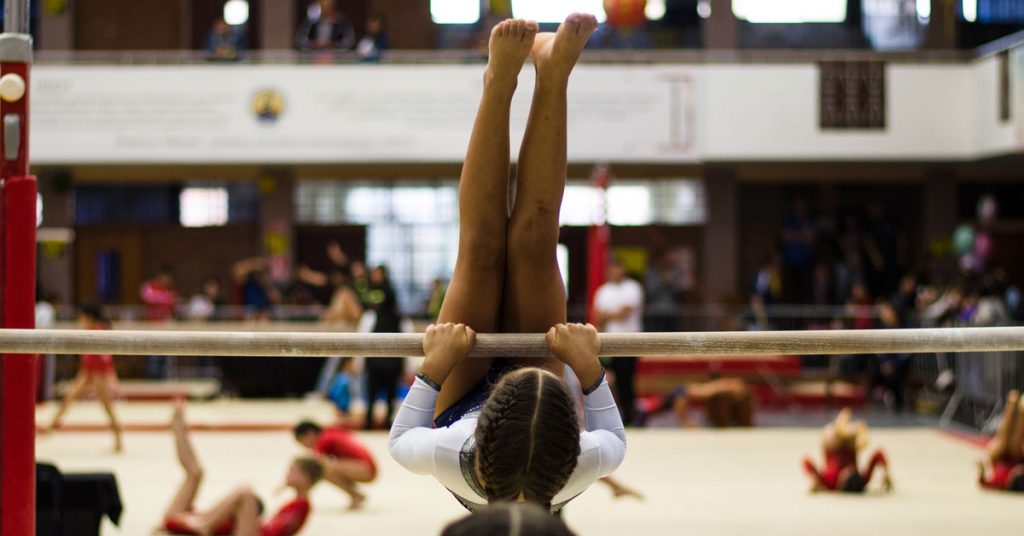 For advanced gymnasts, Tumbl Trak offers three different Junior Bar Pro bundles (Bundle 1, Bundle 2, & Bundle 3).
For team-level gymnasts, you wan to go with the 5-in-1 system. There are two different 5-in-1 Bar System bundles (Bundle 1 & Bundle 2).
All these packages include the bar, a bar pad, and the mats.
Now the difference is the mats themselves. All the mats they offer are safe for any gymnast but higher-numbered packages (like Bundle 2 or 3) provide more comprehensive mats options. Having more mats just means a little more flexibility for other uses and drills when not used with the bar.
For instance, the Junior Bar Pro Package 3 includes the most mats out of all three packages. If your budget allows, opting for the biggest package will ensure maximum safety and versatility for both you and your gymnast.
Getting a higher bundle also offers greater cost savings compared to purchasing each item individually. By choosing a bundled package, you're getting the most value for your investment.
Of course, though, I'm sure that no matter what, your little gymnast will be forever grateful for whatever you decide to get them.
To explore all the Home Training Bar Bundles offered by Tumbl Trak, check out their dedicated page here.
Additional Equipment to Support Your Gymnast's Bar Skills
Purchasing a bar for your gymnast will definitely be beneficial to your gymnast's career but there is more that you can buy to help them improve.
Floor Bar
One option, you could get a Floor bar. Floor bars are crucial for practicing handstands and pirouettes, both essential skills in gymnastics. By positioning the floor bar against a wall, your gymnast can safely balance on the bar, making it easier to learn handstands on bars – a vital skill to master.
Forster Bar
Tumbl Trak also offers a Forster bar, which is not a typical piece of equipment you'll find in every gym. A Forster bar can greatly benefit your gymnast by helping them practice clear hips and giants. It is used as a drill and can be very beneficial when wanting to practice certain techniques.
Final Notes
As we wrap up this guide, we hope you now feel equipped to choose the perfect gymnastics bar and additional equipment for your home gym setup. Remember, investing in the right tools tailored to your child's skill level is crucial for their growth and progress in the sport.
If you're a parent who loves to build stuff for their kids, you could also DIY a bar for your child. Building a bar could essentially be cheaper than buying one but do remember to still buy mats!
If you have any further questions or need more guidance, don't hesitate to reach out. We're here to support you and your young gymnast every step of the way. Happy shopping, and here's to supporting your child's gymnastics dreams!