This post contains affiliate links. It means you're supporting us at no additional cost.
Learn more
Having a gymnast in your house means that even if they've just finished a three-hour practice, they will still be flipping throughout the house. So why not get the equipment (e.g. gymnastics bar) to help them with their gymnastics practice at home?
A gymnastics bar is the perfect way to improve your gymnast's skills. Your gymnast can use it at home to practice whenever she wants. It's easy to set up and doesn't take up a lot of space.
With a gymnastics bar, your gymnast can achieve the same results as if she was practicing in a gym. You'll be able to progress faster and reach your goals sooner.
If your gymnast is asking for a bar for their birthday or Christmas, you may want to know which gymnastics bar is the best to get for home use.
For a quick reference. There are three different sets of gymnastics bars specifically marketed for home practice we recommend. Each are designed for different skill levels.
3 Top Bars for Home Practice
Tumbl Trak Home Kip Bar (Jr. Kip Bar) – Best for beginners
Tumbl Trak Junior Bar Pro – Best for advanced gymnasts
Tumbl Trak 5-in-1 Bar system – For team level gymnasts
Tumbl Trak offers some of the best training bars for home practice. Their bars are high-quality and are rated among the most stable training bars for home.
Their bars are know for their high safety standards, their bars are also designed to have rounded corners and cross supports, which keep them from shaking. Tumbl Trak gymnastics bars are a great investment for any aspiring gymnast.
Continue reading to see why and where to buy them.
Things to Consider When Buying a Bar for Your Home
Bars for Beginner Gymnasts
The skill level of your gymnast is important when deciding what bar to buy for them. Buying a bar for a young gymnast can be beneficial to their development in gymnastics.
If you have a beginner level gymnast then you should look into getting a Gymnastics Home Kip Bar from Tumbl Trak. Getting a Kip Bar (used to be called Junior Kip Bar), will help them train for their kips.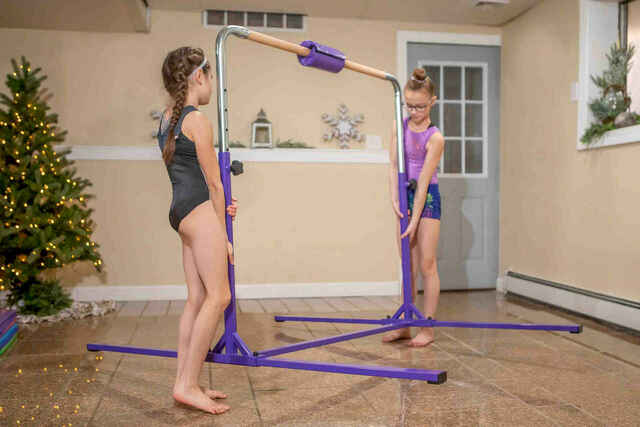 A kip is the most important skill a gymnast will ever learn on bars so getting that extra training at home will only push them further in the sport. Also on a kip bar, they could practice other skills like back hip circles and cast.
Here's where we recommend you to purchase a home kip bar:
Check out which retailer offers you the best price. It's always changing depending on availability and sale they are currently offering.
Bars for Advanced Gymnasts
There is another gymnastics bar for home practice that Tumbl Trak offers and that is the Junior Bar Pro. The Junior Bar Pro is for more advanced gymnasts. It would be good for your advanced gymnast to have this bar because it could be used for multiple skills.
Your gymnast could work their kips, casting, circling skills and squat-ons. Also, your gymnast could work on conditioning skills, like pull-ups and leg lifts. Working on those conditioning skills will help make your gymnast stronger, which will eventually make their skills better as well.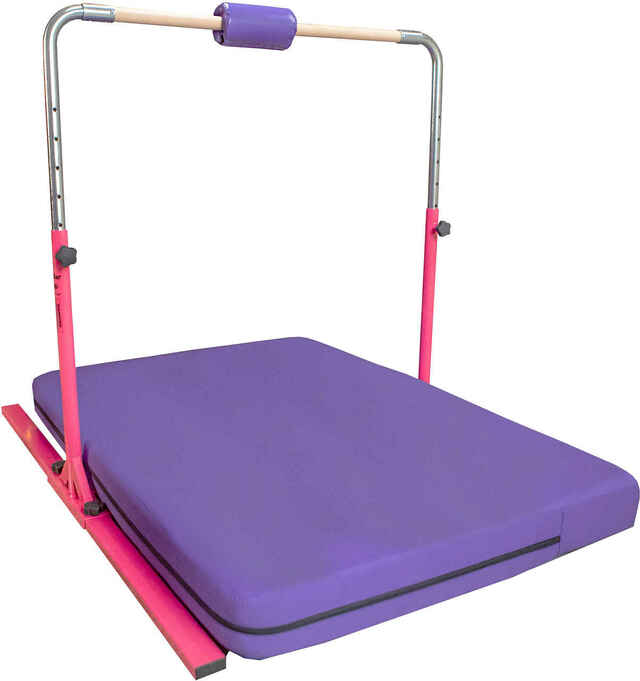 Here's where you can get the Junior Bar Pro:
Bars for Team Level Gymnasts
If you have a gymnast that is on a team level and is learning how to jump to the high bar, then getting the 5-in-1 bar system might be the best idea. With that bar set, it is possible to set the bars far apart and at different heights so your gymnast can go from low bar to high bar.
Jumping to the high bar can be nerve-wracking for a young gymnast. If they have the 5-in-1 Bar System, they could practice their jumping on a lower bar setting and by doing so, your gymnast can gain confidence and go to practice ready to take on the real thing.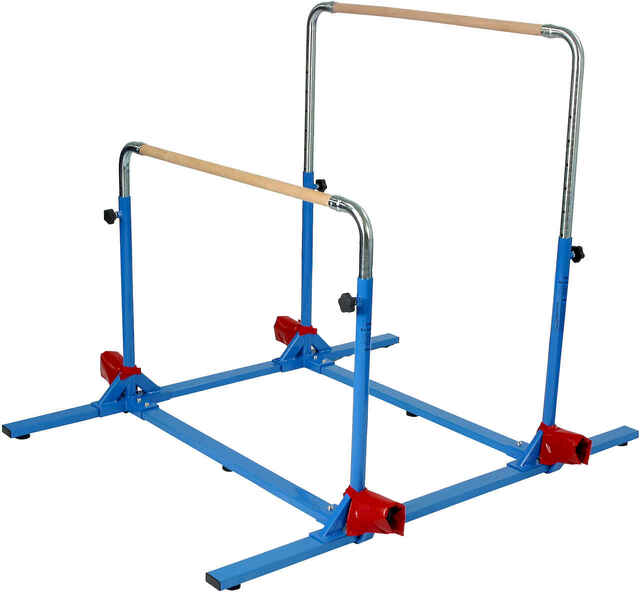 Here's where you can get the 5-in-1 Bar System:
Gymnastics Bars and Mats
With Tumbl Trak, they give options on whether you want to buy only a bar or a bar plus mat package. Their packages include mats to go under the bar. It may be cheaper to buy their package rather than buying the mats separately.
Having the mats is a necessity. It would be safer for your gymnast to have a mat because if they fell you would not want them to get hurt. Having the mats under the bar will give you and your gymnast's coaches some peace of mind.
Getting the package will most likely be the better fit for your gymnast. Having mats will take up more space but it is better safe than sorry because you don't want to deal with any injuries. Your gymnast's coaches will appreciate the safety of mats.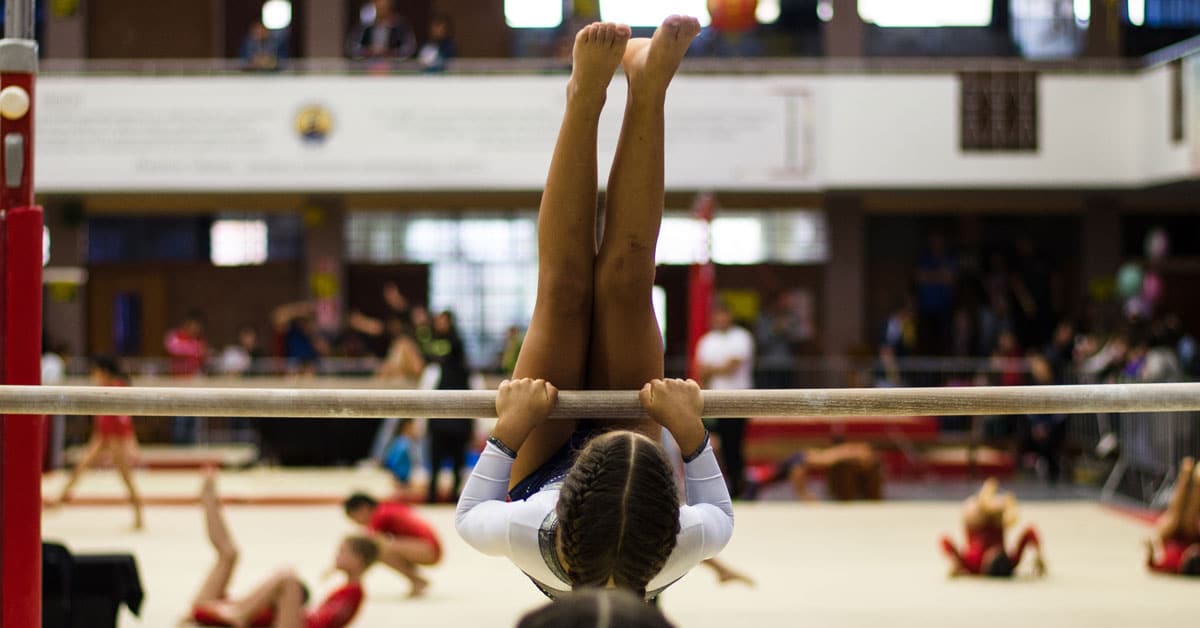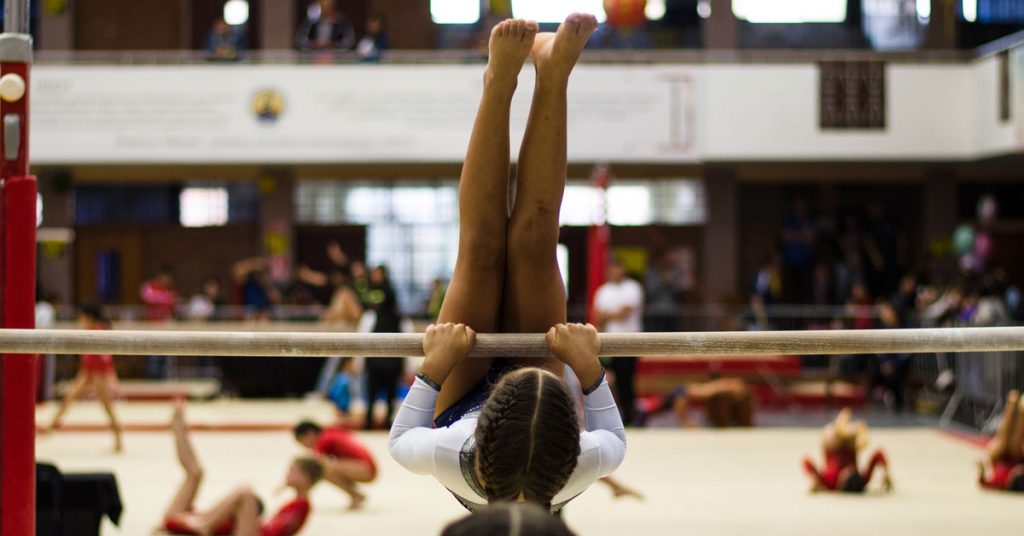 There are different packages because each package comes with something different. For the beginner's Gymnastics Home Kip Bar, Tumbl Trak offers one Gymnastics Home Kip Bar Bundle. This bundle includes a kip bar, a bar pad, and a 4ft x 6ft Home Practice Mat.
For advance and team-level gymnasts, Tumbl Trak offers Junior Bar Pro packages (Package 1, Package 2, & Package 3), and also two 5-in-1 Bar System packages (Package 1 & Package 2).
All these packages include the bar (of course), a bar pad, and the mats.
Now the difference is the mats themselves. All the mats they offer are safe for any gymnast but the higher number package (2 or 3) has the most to offer.
In JR Bar PRO packages, the 3rd package comes with the most mats out of all three packages. If you are willing to spend a lot of money then the biggest package is probably the best bet for you and your gymnast.
Of course, though, I'm sure that no matter what, your little gymnast will be forever grateful for whatever you decide to get them.
To summarize:
Here's where you can get the Home Kip Bar Bundle
Here's where you can get the Junior Bar Pro Bundles
Here's where you can get the 5-in-1 Bar Bundles
Extra Equipment You Can Buy to Help Your Gymnast
Purchasing a bar for your gymnast will definitely be beneficial to your gymnast's career but there is more that you can buy to help them improve.
For example, you could purchase a floor bar. Floor bars are essential in practicing handstands and pirouettes. If you put the floor bar against the wall then your gymnast can balance on the bar and learning a handstand on bars is very important.
Here's where you can get a Floor bar
Tumbl Trak also has a forster bar. A foster bar is not a normal piece of equipment that you'll see in every gym. A forster bar can help your gymnast with clear hips and giants. It is used as a drill and can be very beneficial when wanting to practice certain techniques.
Here's where you can get a Foster Bar
One More Thought
Tumbl Trak is generally a very good brand when you are looking to buy any gymnastics equipment. You can either go directly to their official site or a third party gymnastics equipment suppliers site (like gymsupply.com).
Also check out their listing on Amazon, you might benefit buying from Amazon especially if you have a Prime membership.
If you're a parent who loves to build stuff for their kids, you could also DIY a bar for your child. Building a bar could essentially be cheaper than buying one but do remember to still buy mats!