People who don't follow sports, don't know what the L in "LSU" stands for, or don't have a TikTok account still probably have some idea of who Olivia Dunne is. Even if they don't recognize the name, they've probably seen her somewhere—on TV, on Instagram, and generally everywhere in addition to her time spent at LSU gymnastics practices and meets.
For the uninitiated, Dunne is an LSU gymnast with more than six million TikTok followers and almost three million on Instagram. The New Jersey native leads the pack of all female collegiate athletes when it comes to monetary earnings, but she's a stellar gymnast, too. That fact, at times, gets overshadowed by her world-conquering fame.
Still, in the relatively new landscape of the NIL era in collegiate sports, Dunne is excelling at getting her brand out there, getting her education, and getting attention as a gymnast.
Olivia Dunne's Early Life
Dunne was born in New Jersey in 2002 to David and Katherine Dunne. She was home-schooled as a kid, growing up in the town of Hillsdale.
Her older sister, Julianna, is a softball player at LSU, but for Dunne's part, by 2005, she was already tumbling. 
According to her bio page on the USA Gymnastics site, her interest in gymnastics started with the desire to wear a pink leotard. She would go on to do so much more than that.
She did much of her early gymnastics training at ENA Paramus, a gym run by coach Craig Zappa. She showed early promise, excelling in the balance beam, uneven bars, and floor exercise disciplines.
That Dunne was The Real Thing was evident relatively early in her life, as she excelled in those gymnastics classes as a kid, and her star only ever seemed to rise.
Dunne enjoys creative writing, fashion, country music, and eating cotton candy.
Her Gymnastic Career So Far
Before her 14th birthday, Olivia Dunne had competed at the elite level, placing 28th at the 2014 American Classic, a meet that's part of qualifying to be on the US Gymnastics Championship. This meet has produced a few big names in the sport, like gymnastics titans Aly Raisman, Simone Biles, Dominique Dawes, and Shawn Johnson, among others. 
The next year, she qualified to compete in the 2015 National Championships and placed 25th. In 2016, she improved to a 12th-place overall finish at the same meet, placing eighth in the balance beam.
She joined the US National Team in 2017, debuting on the international gymnastics stage while competing in the City of Jesolo Trophy in Italy. Dunne also finished fifth at the US Classic that year. An injury in 2018 had her competing only on the uneven bars.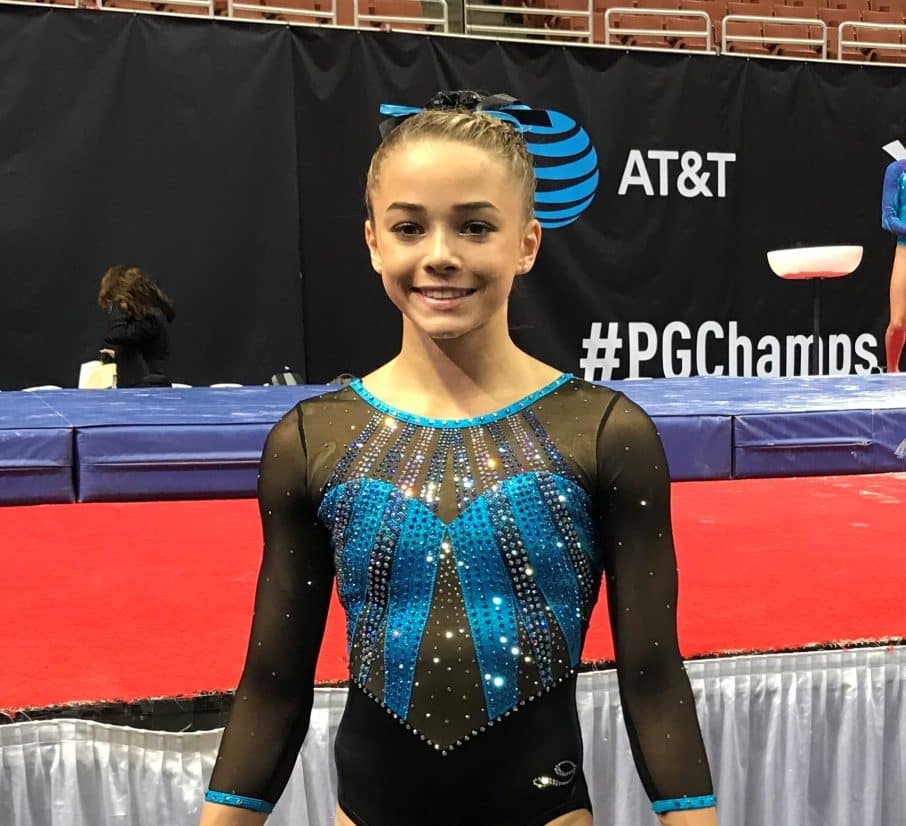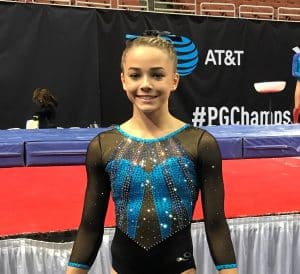 Dunne took most of 2019 off from the sport so she could spend time recovering from her nagging ankle injury. The time off helped, and she would be able to set foot on her first college mat running at 100 percent.
She wrapped up her pre-college gymnastics career, having won the gold medal in the all-around event at Ohio's Elevate the Stage contest, The Atlanta Centennial Classic in Georgia, and Arizona's Classic Rock Invitational.
After her career as a high school gymnast, Dunne headed for Louisiana State University to join its venerated NCAA gymnastics team, competing mostly against other teams from the formidable NCAA Southeastern Conference.
During her freshman year, Dunne scored an impressive 9.90 on the uneven bars at the NCAA Championship semi-finals. Her team did not advance to the finals. She was, however, named an All-American on the uneven bars.
Here's how big a deal that is: though college football differs somewhat from gymnastics, it does have its own annual All-American lists. They are peopled by athletes everyone knows:
Adrian Peterson
Bo Jackson
Eddie George
Emmitt Smith
Joe Burrow
John Elway
Peyton Manning
Randy Moss
Troy Aikman
Tua Tagovailoa
Judging from this very short list alone, getting named an All-American is a high honor that puts athletes on a very exclusive list. You have to be pretty good at what you do to land there.
What's the Big Deal?
Since Dunne is such a huge presence, even though she doesn't yet have the bona fides of Olympic gymnastics superstars, some might wonder what all the fuss is about. It's not that she's not a good gymnast, but she already seems like a bigger deal than Mary Lou Retton, America's Sweetheart Gymnast from the 1984 Summer Olympics.
Some might argue that she's unproven. After all, she hasn't been to the Olympics, and she hasn't notched a perfect ten. So why do so many people know who she is?
This is largely due to two things: social media and the NCAA's NIL. But, it bears repeating, she's also an accomplished gymnast. Her social media following isn't the biggest in the world, but it's substantial. On the other hand, her NIL earnings are way up there.
Social Media
Let's be frank: Dunne is beautiful. She's a tiny, lithe, photogenic blond girl. That's social media gold right there. Since so much of social media content depends on photos and video clips, these visual-centric platforms tend to work best for people who are pretty.
But she also gets the whole thing. She understands that posting often leads to clicks and retweets, and these generate views and followers. More followers mean more opportunities for monetizing the accounts, and she's gotten very good at that part of it.
Dunne posts pictures of herself in cute outfits and clips of her and her fellow gymnasts at practice, horsing around, or competing.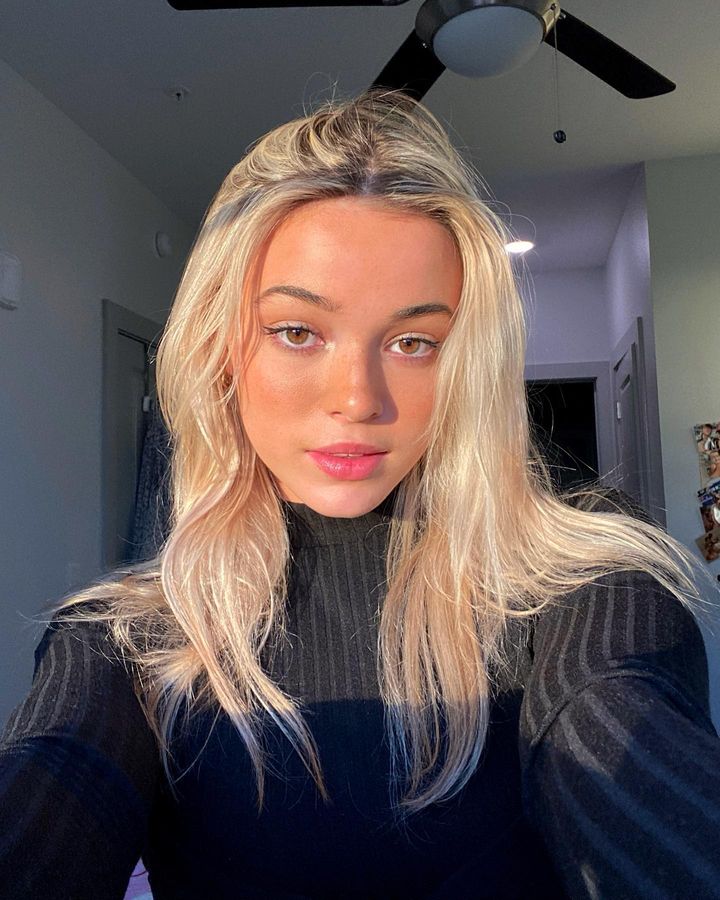 The lockdown days of the pandemic helped propel her socials to prominence, as so many of us were home, scrolling through TikTok, making sourdough, and trying not to go crazy. Dunne wasn't so much making sourdough as making videos of herself doing cartwheels on the beach, and the clips took off. So did her number of followers.
It used to be that the biggest fans of gymnasts were their parents, large groups of pre-teen girls who were aspiring gymnasts, and every four years, the entire United States for the two weeks or so of the Summer Olympics.
Today, thousands and thousands of teenage boys know who a college gymnast is because she's pretty, and they've seen her Instagram account. This attention has caused some alarm for Dunne, for LSU, and for many people indirectly involved with the sport, such as commentators.
Perhaps not so great is the criticism the young gymnast has endured for her social media presence and her capitalization on it. There have been some shots taken at her over her using sex to sell her brand.
That's not to say she posts sexual content, but in a world where just about everything gets sexualized, some news media outlets seem to object to a pretty girl posting pictures of herself looking, well, pretty.
Her status as a social media influencer has conferred upon her the ability to earn as much as $10,000 for sponsored posts on TikTok and Instagram. Sure, it's a bit shy of what someone like Selena Gomez commands ($1.7 million per post), but it's still $10,000. And Dunne is a freaking college kid.
NCAA's NIL
Speaking of college, the NCAA recently instated its Name, Image, and Likeness (NIL) policy in the wake of the US Supreme Court's 2021 decision in the case of NCAA v. Alston.
In short, the court ruled that colleges could not prevent athletes from profiting from their names, images, and likenesses. If a college football player wants to let a shoe company use their picture in an advertisement, that player can make money off it now.
Before the NIL decision, college athletes were expressly forbidden from receiving any compensation as amateur athletes. The NCAA has been, in the past, so over-the-top with this that, in addition to rightfully punishing programs for cheating, the organization has also done some dumb things.
In 1998, a basketball player at UNLV found himself suspended from the team when the NCAA learned that he borrowed a truck from an assistant coach to move a used mattress he'd just bought. Apparently, an unpaid college athlete needed to have paid for the privilege of driving someone else's vehicle.
Oklahoma had three athletes eat too much pasta at a banquet, which violated the NCAA's rule about "reasonable refreshments," and each athlete had to donate $3.83 to a charity to remain eligible.
Another Oklahoma athlete charged almost $10 to her hotel room for Internet service, and when the coaching staff paid the hotel bill (including the wifi charge), the athlete was ruled ineligible for competition until she donated $9.95 to a charity.
Many of these dumb things are now dumb things of the past because athletes can profit from their own names, meaning they can endorse products, make TV commercials, and get paid for speaking engagements, among other earnings opportunities.
Olivia Dunne, because of NIL, is the highest-earning female collegiate athlete in the country, pulling in approximately $2.6 million. That makes her the sixth-highest NIL earner (of any sex) and puts her ahead of such big names as 2022 Heisman Trophy finalist C.J. Stroud.
She has endorsement deals with Vuori, an activewear clothing company, Plant Fuel, which markets plant-based supplements, and American Eagle.
Because women's sports generally receive less coverage, and because there isn't much of a market for professional female gymnasts after college, the developments in the NIL realm have greatly benefitted many women athletes. Dunne has been at the forefront of the NIL era and is defining what can be done with the platform.
Gymnastics
As a college athlete, Dunne's career hasn't been a long one yet, but she's already amassed some impressive scores. She's twice scored a career-high 9.925 on the uneven bars in collegiate meets and has a career-high 9.900 on her floor routine.
These scores tell the world that she's more than a tech-savvy social media girl with a pretty face and not much else going for her. Dunne is a gifted athlete and student (she was named a Scholastic All-American her freshman year).
What She's Doing Now
Going into the 2023 season, Dunne is a junior at LSU, so she spends time in classes, at practices, and competing. She also devotes time to managing her brand, her social media, and her overall career while, at the same time, trying to navigate her fame. She also takes time to clap back at critics every now and then.
She's made regular appearances at meets, though her fame has forced LSU to increase security. The sight of a throng of young men waiting for her to leave the venue is a testament to her fame, sure, but it's also a little unsettling. Dunne has, in fact, had to contact police regarding at least one unsettling social media interaction with a fan.
She still posts on her socials, often getting paid for the sponsored ones. Building her brand remains important to her since she understands that there's no "going pro" for gymnasts, or the vast majority of college athletes in any sport, for that matter.
Wrapping Up
Even people who don't know Olivia Dunne's name have probably seen her, and they certainly know someone who's heard of her, especially if they have kids or friends of a certain age.
Her social media presence is well maintained and continually growing, so much so that Internet searches for figures related to her followers and earnings differ widely depending on the date those figures appeared online.
She remains an athlete and continues training at LSU and working hard to succeed for herself and for her team. Since debuting on the college scene with a 9.900 against SEC opponent Arkansas, she has remained relatively free of the injuries that plagued her during her pre-college years.
As it stands today, Olivia Dunne is a college athlete who is a millionaire, a successful gymnast, and a social media superstar. Not bad for someone barely old enough to drink a glass of wine in celebration of any of those things.