Aly Raisman vaulted into America's minds and hearts at the 2012 London Olympics. She's been making waves ever since as both a Gold Medalist and an activist. Read on to learn more about this powerhouse and her journey to and from the Olympics. We cover her humble beginnings to her Olympic journey and beyond!
Olympic Journey
Aly Raisman was born and raised in the Boston suburb of Needham and started training in gymnastics when she was just 18 months old. Her passion stemmed from an obsession with the "Magnificent Seven". The Magnificent Seven was the American women's Olympic team who took home the Gold at the 1996 Olympics in Atlanta.
Aly was just over two years old that summer and had just begun gymnastics, but she watched the VHS tape of their competition year after year for inspiration. Raisman started training seriously as soon as possible at Exxcel Gymnastics and Climbing until reaching Level 8.
Raisman then switched to Brestyan's American Gymnastics Club. There she was trained by Romanian gymnastics coach Mihai Bresyan who recognized her potential and followed her through her Olympic career.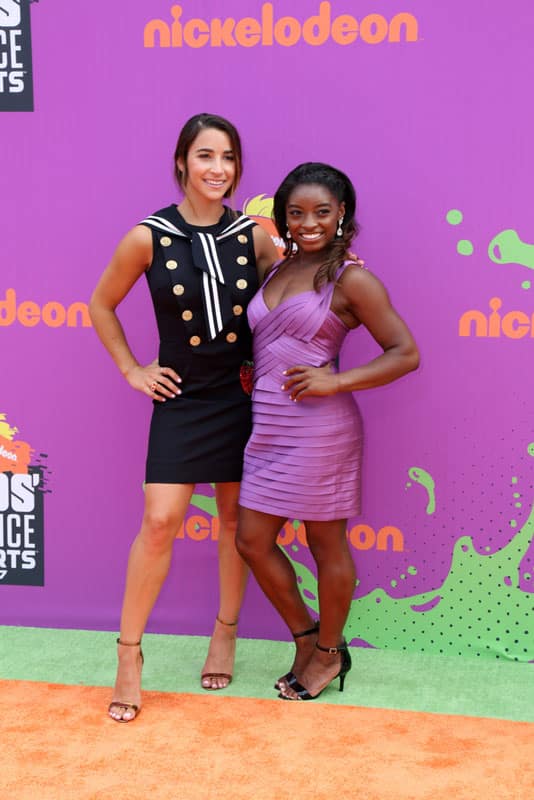 Raisman started competing nationally in 2009 when she was just fifteen. She won her first medals at the Junior Pan American championships in Brazil, where she helped the American team win first place.
She also came in third place in the all-around, and first place on vault and floor. This solidified her later famous skills on floor for which she would eventually win Olympic gold.
Raisman started her Senior career in 2010 when she was sixteen years old. She first competed in the American Cup and placed second overall, and then won the all-around for the first time at the City of Jesolo Trophy in Italy with a score of 57.650.
During the rest of that year, Raisman competed at many events worldwide and helped the American team win gold more than once. She especially excelled at floor and beam and was well on her way to making Olympic history.
In October of 2011, Raisman showed her leadership chops when she became the team captain at the World Artistic Gymnastics Championship in Tokyo. She led her team with passion and patience and helped them win first place.
After this success, Raisman decided to go professional in November. She gave up her NCAA eligibility and a scholarship to the University of Florida for a chance at the Olympics.
During 2012, Raisman competed at many national and international championships and proved herself to be not only talented but calm under pressure and a consistently solid competitor. She impressed trainers and coordinators with her ability to keep the team together with patience, and never waver even when things go tough.
It was her leadership, her general stunning talent, and her consistent first-place wins on both floor and beam that earned her a spot as a member of the 2012 Olympic team. She officially earned the spot when she placed third at the Olympic Trials in San Jose, California in July of 2012.
At just eighteen she was the oldest competitor to be chosen, and she was chosen as the team captain because of her calm demeanor and leadership skills.
Many professionals in the industry commented that she was an ideal member of any Olympic team. Olympic athletes need superior talent, of course. But, just as important is grace under extreme pressure. Raisman was the perfect example of this.
She proved to be steady and confident no matter how much pressure she and the team were under. She was often referred to as the backbone of the team.
From the formation of the new Olympic Team, there was something different. The team was the first to be featured on the cover of Sports Illustrated, and Raisman was the feature of a documentary that charted her journey over nine months.
The team, nicknamed the "Fierce Five", competed at the London Olympics. Raisman helped her team qualify in first place for the team finals and ultimately win the team gold medal overall.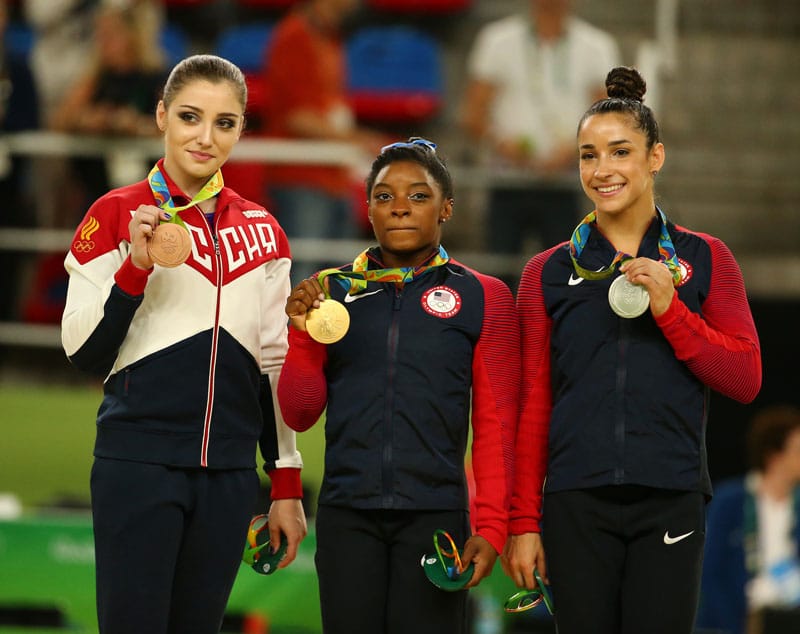 Raisman herself won the gold for her floor exercise, becoming the first American woman ever to win gold on floor. Her score of 15.600 was the highest scoring floor exercise at a major international competition in the 2009-2012 Olympic quad. She also won a bronze medal for her balance beam routine.
After the London Olympics, Raisman injured her knees during the Kellogg's Tour of Gymnastics in Ontario. She fell while performing a Maloney on the uneven bars. She took a break from gymnastics to deal with her injury and enrolled at Babson College.
Raisman returned to gymnastics in 2014 at the October national training camp. Her coach made her do an entire year of conditioning before she rejoined the national team to ensure her body was ready for the stress of competing internationally again.
Raisman returned to international competitions in 2015, helping her team score a gold medal at the City of Jesolo Trophy in March. She placed third in both the all-around and floor exercises.
In other competitions that year, Raisman sometimes struggled to get back on her feet after her long hiatus and fell a couple of times. However, she proved herself again when she beat world champion and fellow teammate, Simone Biles, on the floor at the National Championship in Indianapolis.
It was these performances that secured her a spot on the 2016 Olympic team. Before the Olympics began, she returned to her previous skill level at international competitions. She helped the U.S. team win gold at the Pacific Rim Championships and personally won the silver all-around.
She also won silver at the National Championships, both times scoring just behind Biles.
At the 2016 Olympic trials in July, she finished in third place behind Biles and Hernandez. She and Gabby Douglas both qualified that year, making them the first women to make back-to-back gymnastics teams since 2000.
Raisman was considered the underdog during the Rio de Janeiro Olympic qualifiers to see who in the team would compete in the individual all-around. However, she managed to beat both Hernandez and Douglas to secure the second spot in the all-around along with Biles.
In the all-around final, Raisman won a silver medal, again coming in second to Biles' gold. She again surprised fans and judges by beating the favorite for silver, Russian gymnast Aliya Mustafina.
As the captain, Raisman again led her team, the "Final Five" to win gold at the Rio Olympics.
She also scored two more medals herself, for a total of six Olympic medals. This made the second most decorated Olympian gymnast behind Shannon Miller.
Despite her injury and long hiatus, her talent and maturity helped her achieve her best performances yet, and she finished her Olympic career on a high.
Loving Parents
While Raisman is famous enough to make her entire family well-known, her parents have become national treasures in their own right. Reisman's loving Jewish parents are named Rick and Lynn.
Lynn was a gymnast in high school and helped jumpstart Raisman's passion for the sport. But what brought Lynn and Rick into the spotlight was their hilarious and relatable reactions during Raisman's competitions.
Any parent can probably imagine how anxious and on edge they would be watching their child perform death-defying tricks and skills on a tiny beam, or leaping and flipping into the air on the floor. Many gymnast parents manage to keep their cool in the audience, but not Aly's. And fans loved it.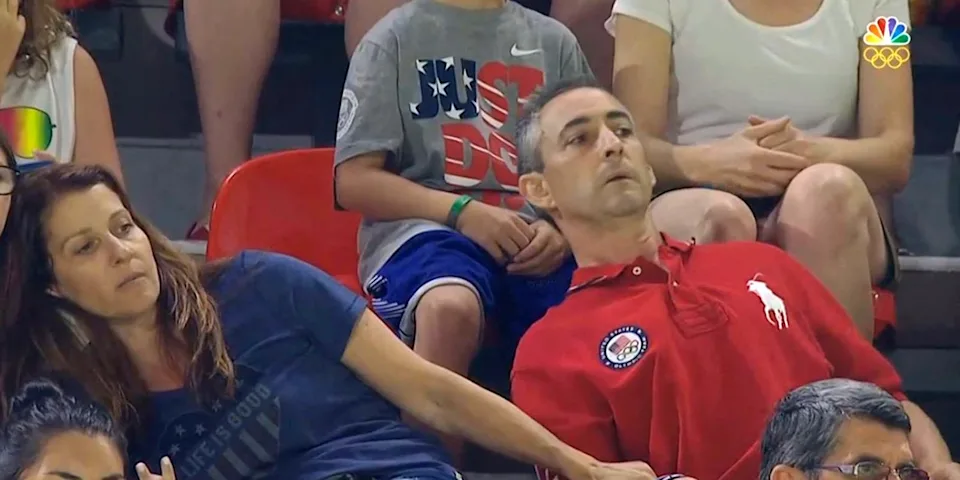 There are many viral videos online of her parents' visceral reactions to her stunts while the rest of the audience applauds. These authentic reactions to their daughter's skills endeared Raisman's parents to the world!
Retirement
Reisman officially announced her retirement in 2020 through an Instagram post. She was 25 years, which is a typical age to retire in a sport that requires such a young body. She had not competed since the 2016 Rio Olympics, so the announcement was not a surprise.
Sexual Assault and Activism
A little over a year after her stunning performances in the Rio Olympics, Raisman was one of the women who came forward with allegations against her former Olympic team physician, Larry Nassar. Larry Nassar was an osteopathic physician and was the team doctor of the United States women's gymnastics team for 18 years, from the 1990s until 2015.
Throughout his entire career, he used his employment as the team's doctor to molest hundreds of young women who passed through the team's ranks. Former gymnasts claim that they started complaining against Nassar in the 1990s.
Still, USA Gymnastics did not take action against him until 2015, when they finally fired him because of complaints from Raisman and her teammates.
Many current and former Olympic teammates made accusations against Nassar, and Raisman was one of the main complainants and spokeswoman for her team against Nassar.
Raisman gave an interview with 60 Minutes where she described the abuse she had endured at Nassar's hands starting when she was just 15 years old and condemned the abuse her teammates suffered as well.
After her interview, Raisman was criticized by some in the media and fellow teammate Gabby Douglas for dressing provocatively and inciting the possible abuse. Raisman held fast in her conviction about what happened, and her teammate Simone Biles called out this victim-blaming mentality. Douglas apologized to Raisman and revealed she was also one of Nassar's victims.
During Nassar's court cases, Raisman was one of several competitors who read victim impact statements that helped secure Nassar's conviction.
Raisman's bravery in her testimony in court and during interviews is one of the main reasons that Nassar was sentenced to over 300 years in prison. In 2018, Raisman and her fellow survivor teammates were awarded the Arthur Ashe Courage Award, one of the most prestigious sporting civic leadership awards.
Raisman has continued her activism concerning this case. In 2021, she was one of four gymnasts who testified in front of the United States Senate about the FBI's failure to properly handle the abuse claims.
Raisman claimed that the FBI botched the investigation, lied in reports, and made her feel like the abuse was her fault. This lawsuit and another one filed against the FBI in 2022 are still ongoing, and Raisman continues to advocate for her and her fellow teammates against abuse and miscarriages of justice.
Where is Aly Now?
Raisman has had a successful career in many ventures since retiring from gymnastics.
She has appeared in music videos and continued her activism work as a UNICEF Kid Power Campion. UNICEF Kid Power developed the first fitness tracker for kids that connects to an app.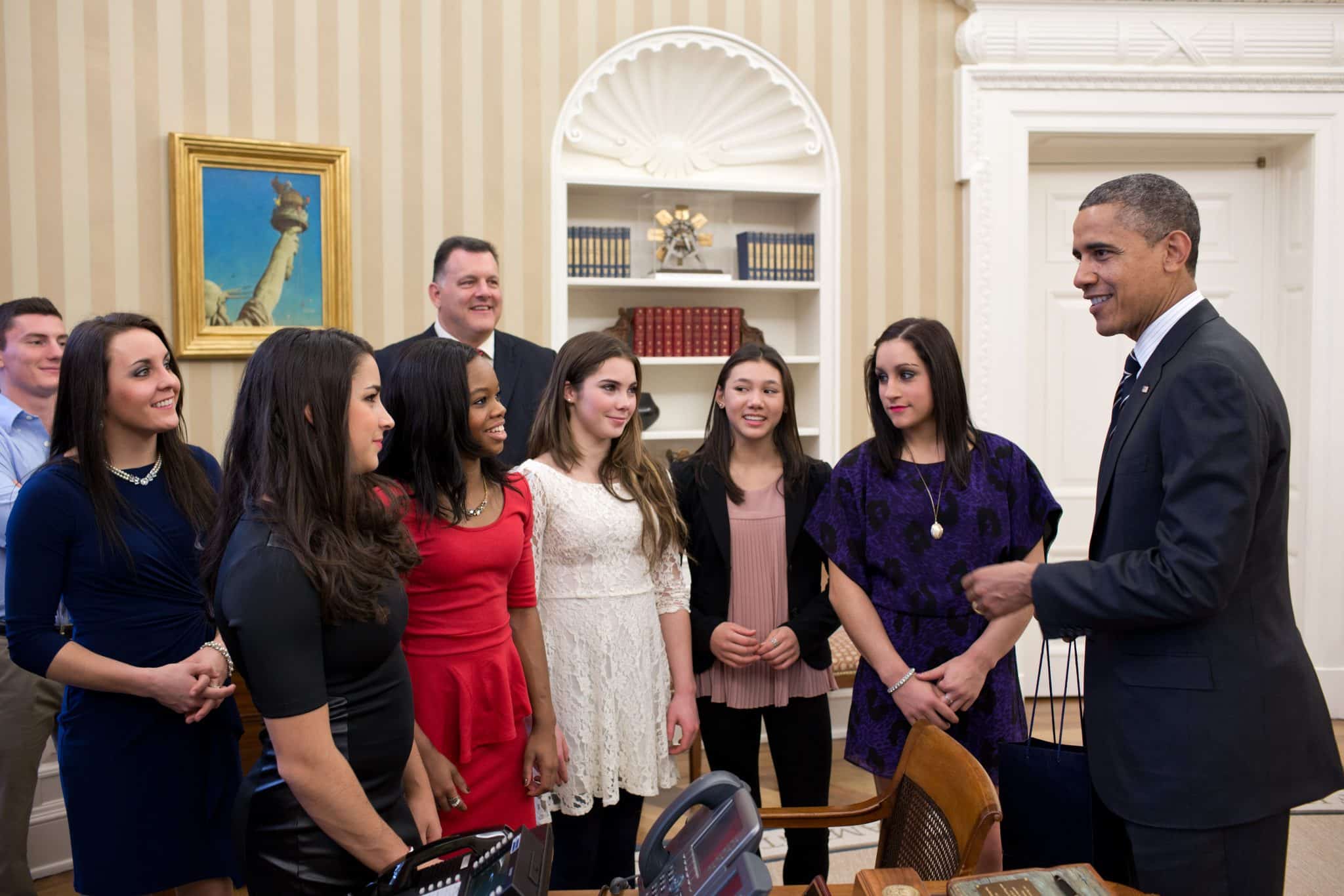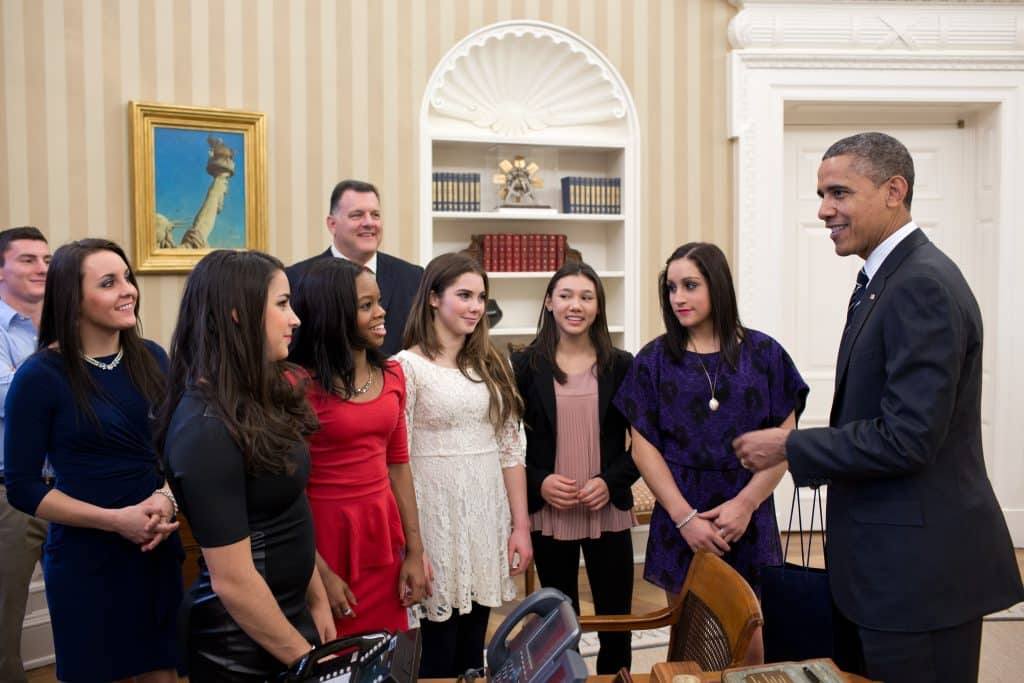 As kids record their exercise, UNICEF delivers food packers of nutrient-dense food to children suffering from malnutrition. Raisman is an ambassador for the program, helping spread awareness and being a spokeswoman for the important work the program is doing.
Raisman's most famous role after retirement was as a competitor on the 16th season of Dancing with the Stars, where she made it to the finals and placed fourth. Her partner was two-time champion Mark Ballas, and together the two stole the hearts of many viewers.
Aly and Mark's most famous and successful routines were the Rumba dance to "When I Was Your Man" which scored them 10s all around, and their final performance which was a freestyle dance to the song "Icarus".
After Dancing with the Stars, Aly has had a few other major media appearances. She and her teammate Simone Biles appeared together on the cover of the 2017 Sports Illustrated Swimsuit Issue. They promoted body types that were different from the usual cover models, focusing on more muscular rather than thin features.
Aly also released her memoir, Fierce: How Competing for Myself Changed Everything with Hachette in 2017. The memoir chronicles her gymnastics career and personal life from the age of two through the Olympics.
Raisman has also appeared in two films. In November 2019, she had a cameo in the Charlie's Angels reboot film. In 2021, she releases a documentary through Lifetime called Aly Raisman: Darkness to Light that advocates for abusers of sexual violence.