Find out the differences between recreational and competitive gymnastics, and which one will better suit your budding gymnast!
New Found Love for Gymnastics
So, your child wants to start gymnastics. They're talking nonstop about Gabby Douglas, dreaming of doing handsprings and cartwheels just like her. They're practicing splits and leaps in the backyard, their favorite stuffed animals and dolls acting as judges.
You see the inspiration in their eyes and agree to enroll them in classes. Most kids start off on the recreational gymnastics track. Still, there will be a time to choose whether you want your child to continue the sport as a hobby or pursue it competitively.
Recreational vs. competitive gymnastics: what's the difference? It's a significant decision that will affect the rest of your child's life. In this article, you'll find the differences and similarities between the tracks to help you make an informed decision. Let's hit the mat and leap into it!
What's the Difference?
Recreational gymnastics is just that: recreational. The track welcomes anyone interested in the sport, from beginners to experts and toddlers to adults. There's no pressure of an impending competition, where every element has to be perfect. Gymnastics practicing recreationally are purely doing it to learn more, stay fit, and have fun.
On the flip side, competitive gymnastics involves competitions. Athletes commit most of their time training and refining their skills to put out in front of judges. Competitive gymnasts train and progress through a series of levels. Many hope to show off their flips and twists at the national level one day, or even the Olympics.
Recreational vs. Competitive Gymnastics
Both recreational and competitive gymnasts are in the sport because they love it, and there's nowhere else they'd rather be. But there are several significant differences to help you decide if your child will be a recreational vs. competitive gymnast.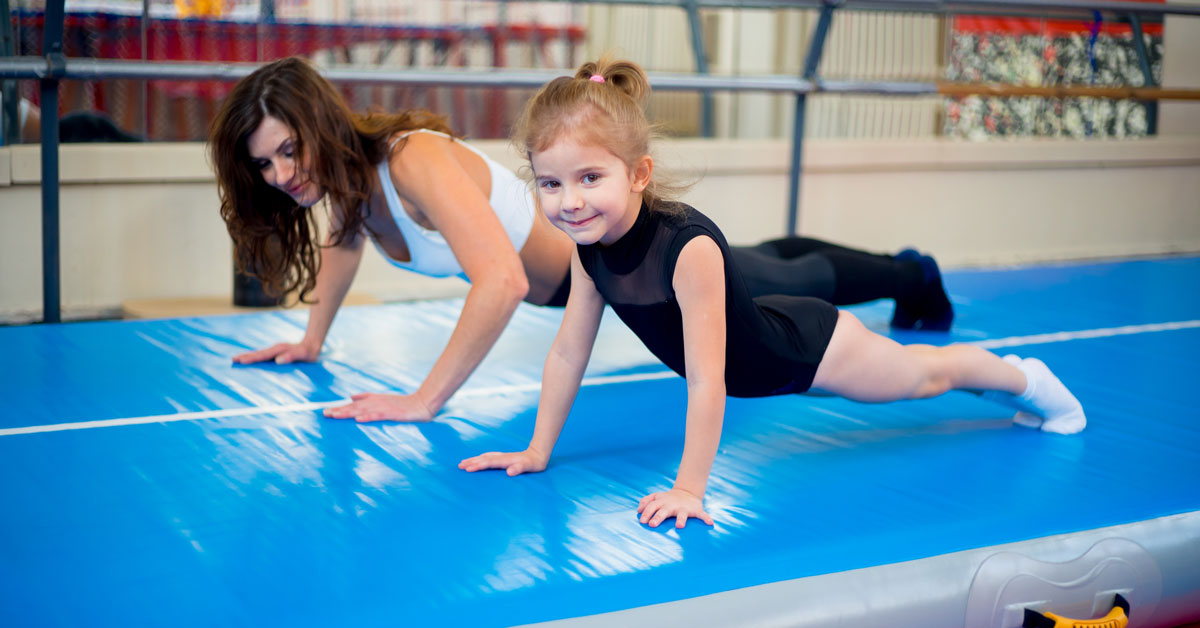 Advantages of Recreational Gymnastics
Recreational gymnastics is the better choice for athletes looking for a more relaxed environment where they can learn at their own pace. These are the advantages of recreational gymnastics:
Less Intensive Training can be More Enjoyable
Choose Your Commitment Level
Cheaper
Advantages of Competitive Gymnastics
If your child wants a more intensive experience with the sport, competitive gymnastics is the way to go. These are the advantages of competitive gymnastics:
Learn to Maintain a Busy but Balanced Lifestyle
Enter Tournaments and Compete with a Team
Progress Through Levels to Earn Team Spots
Training Hours
While gymnastics training hours vary by level, recreational gymnasts typically train less intensively. Many recreational track athletes will train one to two times a week, and only one or two hours each session. However, coaches are still just as dedicated to helping recreational gymnasts improve their skills and become the best version of themselves.
Competitive gymnasts have a much more strict training schedule. Depending on the level, athletes will train up to 20 hours a week and a minimum of eight. The amount of training starts light and builds up as the gymnast progresses and gets older. They work on skill progression on top of learning new floor routines and perfecting elements for competition.
Health and Fitness
It's no secret that gymnastics is a healthy and fun way to stay active. Recreational gymnasts are in the sport for precisely that reason: it is a fun way to exercise. There are a myriad of benefits. The sport increases muscle tone and flexibility, prevents disease, and teaches kids discipline. Even a recreational gymnast, your child will reap all these benefits.
Competitive gymnastics comes with the same health benefits and more. Athletes need to keep to a strict diet to stay in tip-top shape for competition. Maintaining a balanced lifestyle complete with rest days is significantly more critical as a competitive gymnast.
Level of Commitment
Recreational gymnasts can put in as much or as little as they want into the sport. The commitment level is entirely up to the athlete. Your child wants to try out another sport? There's no consequence to taking a step back from gymnastics to focus on basketball. Or, if your child wants to head to the gym more often, there's no harm in spending an extra day at practice.
Of course, competitive gymnastics requires much more commitment than recreational. Athletes who make a competitive team will be required to attend certain practices—and practice more on top of that. The most competitive athletes make many sacrifices, from missing birthday parties and sleepovers to being homeschooled through high school.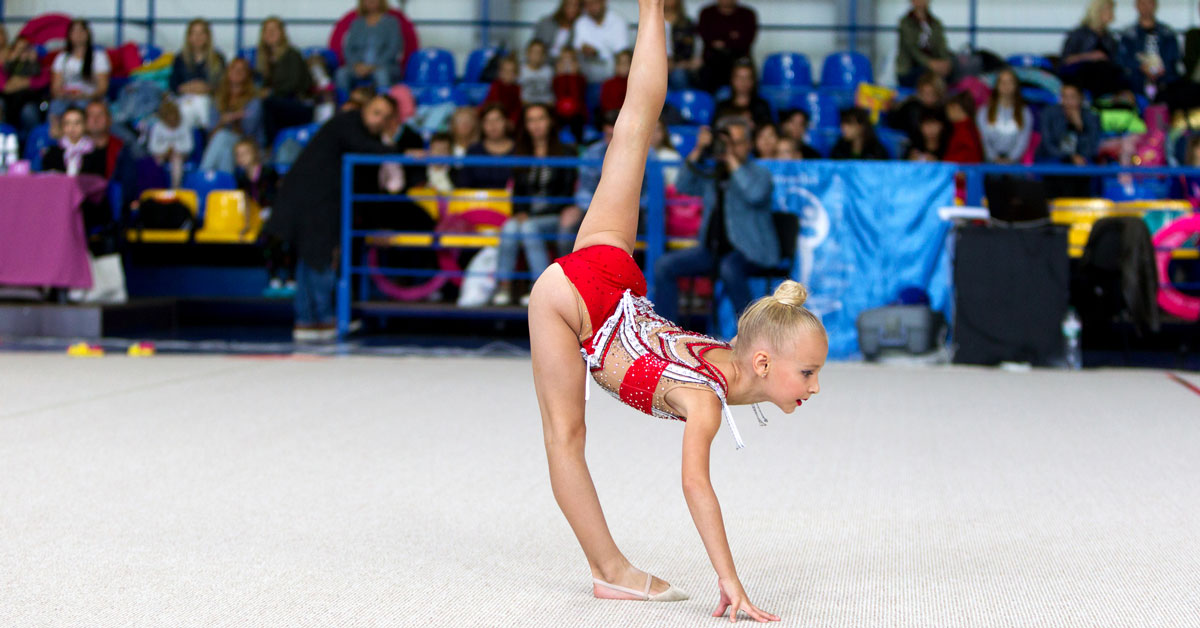 Financial
As with commitment level, recreational gymnasts can put as much financial support into the sport as they want. The most significant expenses will include lessons and the gym fee. Of course, you can't forget the cute leotards!
Competitive gymnastics requires a very significant financial commitment. On top of lessons and gym fees, it may cost money to join a competitive team. You'll also pay for competition fees, team attire, competition leotards, and travel expenses. When your child progresses to the highest levels and wants to compete on the national or international stage, there are additional fees.
So, Which One Would Be Best for Your Child?
You learned the differences between recreational and competitive gymnastics, but it all comes down to one choice: whether you want your child to be a recreational vs. competitive gymnast. Whichever track you decide for your child's gymnastics dreams, they both are there for the same reason: a love for the sport.
It's a tough decision that you should make with your child. It's essential to understand their goals and what they want to get out of gymnastics. If they are practicing recreationally and want to kick it up a notch, consider looking into competitions. If your child is competitive and wants to take a step back, let them pursue other passions.
Pick Recreational Gymnastics if…
Choose recreational gymnastics for your child if you want a fun way for them to stay active and learn life lessons about perseverance and dedication. While it's less intensive, recreational gymnastics is an equally rewarding experience. Children reap the same health benefits and learn about perseverance as well as other essential life lessons.
Recreational gymnastics is ideal for children who want to try out different sports. It requires less commitment, making it the perfect extracurricular on top of an already busy schedule. It's for all ages, too, if you want to join your child on the mat for a family activity. Recreational gymnastics is also for families who can't financially commit to intensive training.
Pick Competitive Gymnastics if…
Enroll your child in competitive gymnastics if they're ready to commit to intensive training that results in medals, friendships, and a lifelong love for competition. Joining a competitive squad will help your child create lasting friendships with other athletes their age. They get to wear sparkly new leotards at competitions while showing off what they can do. 
Competitive gymnastics is a rewarding experience. While you and your family will commit a lot of time and money, the benefits are insurmountable. Children will learn to push themselves to achieve great things, whether they want the gold medal or simply qualify for a significant competition. They'll learn perseverance, dedication, and determination.
Recreational and Competitive Gymnastics
Now you know the significant differences between recreational and competitive gymnastics. Recreational gymnastics gives children greater flexibility with schedules, finances, and commitment while reaping the same health benefits. Competitive gymnastics allows a child to achieve the impossible and dream of making it to the national or international stage.
Choosing recreational vs. competitive gymnastics for your child is a big decision. Either way, your child will start out in recreational gymnastics classes before their coaches feel they're ready for the commitment required for competitive sport. Ultimately, though, it's genuinely up to your child, whether they want to enjoy gymnastics as a hobby or pursue a competitive career.
Enrolling your child in gymnastics could be the best thing you ever do for them. Their first time on the mat will start a journey that will take them on so many adventures. No matter which track you choose, your child will reap the same benefits and develop a lifelong passion for a fantastic sport.